The founder and CEO of one of the nation's leading independent Internet Service Providers (ISPs) believes the Internet makes us all "newbies" and that practically everyone needs technical support from time to time. Charles Brewer says he fit both categories when he started MindSpring in 1994. (He very successfully took it public in 1996.)
Charles Brewer did not set out to be an ISP. He decided he wanted his own company. He was discontent with the business status quo. He could not believe that to be in business, one had to be stuffy, boring and say "impactful" twice in every sentence, that employees who wanted to do good work had to find their efforts frustrated. What would the business be? Instead of going to market with a new mousetrap, he posted a set of key values and beliefs on his apartment wall. They centered on two -- respect for individuals and a commitment to honesty and integrity. Circumstance brought Brewer and the Internet together.
Today's MindSpring pivots on Charles' original Core Values and Beliefs. There are several, including "frugality," but they all come back to reinforce the two centerpieces. MindSpring now has more than 600 employees, approaches half a million subscribers and can be found in towns and cities all over America. Charles, like others, sees the Internet taking an increasingly prominent place in both our personal/professional lives and in our economy. But he does not see technology driving the growth of his unusual business, cited by some as among the Top Ten Companies in America for which to work. It's those Core Values and Beliefs on which Charles bets his future and the future of his employees, stockholders and customers. The need for service and a willingness to help people will never go away, Charles is confident. Everything else follows.
Charles looks toward the day when the Internet and Internet-style connections, attachments, goods and services will be so pervasive they will be "normal." Then he figures he won't be invited onto radio programs, but he expects MindSpring still will be offering the finest Internet service available anywhere. To do that, Charles and his colleagues are at work to make sure their customers find the Internet enjoyable, useful and that it helps them learn.
This kind of customer-centric thinking, Charles believes, gives MindSpring and companies like his an advantage over existing "embedded" companies -- some of them huge. They have a lot more hardware, Charles concedes, but they also arrive on the scene with a full set of baggage. Charles Brewer and MindSpring's other employees are putting their money where his values are. It's a neat fit with the Core Values and Beliefs from which MindSpring ... sprang. Consistency need not be a hob-goblin after all.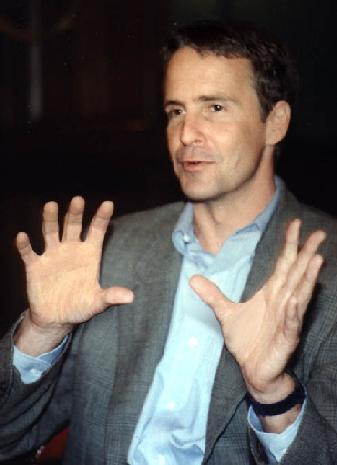 Charles Brewer
. . . founded MindSpring, a national Internet Service Provider (ISP), in 1994. As CEO, he very successfully took it public in 1996. Before MindSpring had services, Charles articulated "Core Values and Beliefs,"æwhich continue to guide the business. An avid kayaker, Charles likes the physical world as much as cyberspace. He and his wife live in an Atlanta neighborhood with Louie, the three-legged Rotweiller. Charles is a Phi Beta Kappa graduate of Amherst with an MBA from Stanford.