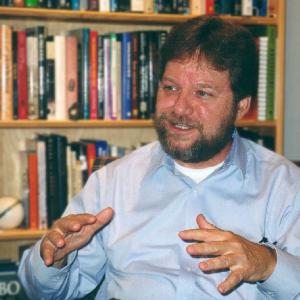 Bill Bolling
. . . executive director and founder, Atlanta Community Food Bank. Mr. Bolling's founding leadership and Board of Directors positions include Second Harvest National Food Bank Network, the Atlanta Task Force for the Homeless, Community of Hospitality, Mazon, the Georgia Housing Trust Fund Commission and the Regional Leadership Institute. A former Kellogg Fellow, Mr. Bolling has traveled extensively throughout the world, studying citizen democracy and conflict resolution in emerging participatory forms of government.

3:38 secs
[This Program was recorded September 25, 2001 in Atlanta, Georgia, US.]
Food is like air and water -- everybody needs it and one gulp is not enough to sustain life. But food is more, Bill Bolling has figured out. It's also a tool for building community and, ultimately, democracy.
In 1979, Bill Bolling founded the Atlanta Community Food Bank, which he has led ever since. While America is the world's breadbasket, 20% of its perfectly good food ends up in the dump. Meanwhile, 1 in 5 American children go hungry along with an ever-greater number of people caught without a safety net as a result of welfare reform. Where others shrugged, Bill Bolling saw a potential win-win situation: collect and distribute the perfectly good food thrown away by grocery stores, restaurants and caterers. Fill empty stomachs instead of landfills.
Bill Bolling was at the vanguard of what is now a national network of almost 250 organizations which bring good-but-unsalable food to America's hungry. A practical entrepreneur, Mr. Bolling's approach was to "centralize the acquisition and decentralize the distribution.š That's key to providing nearly a million and a half meals a month in the Atlanta area alone. It takes every one of the 700 community-based organizations with whom the Atlanta Community Food Bank works to close the gap.
Whether bringing hungry people and wasted food together or helping people in emerging democracies learn to be active citizens, Bill Bolling's life's work is about relationships. His mission is to engage, educate and empower everyone in communities. In that vein, Mr. Bolling believes Americans have become too hard on each other. He's convinced the reason is we don't know each other. Rich people trust poor people to work every day in their homes, Mr. Bolling points out, but not to make enough money to live. Why? Mr. Bolling's convinced the prosperous simply don't value the poor enough because they don't know the folks who wash the cars, shine the shoes, clean the hotel rooms, work in the restaurants, and wait on tables.  So most Food Banks, including the one in Atlanta, enlist prosperous volunteers so they can get acquainted with people Mr. Bolling calls the best folks in the world.
Important as every meal is to a hungry person, the larger problem Mr. Bolling works to address is a basic conflict in the way he observes Americans have allowed society to be structured. Emergency programs have been created instead of taking care of unmet needs in a more systematic way. Democracy depends on community, says this former Kellogg Foundation Fellow who has worked in mediation and conflict resolution around the world. Bill Bolling is convinced that democracy is a verb, not a noun. It's messy, he says. And at its best, democracy slows down because we all get involved in it.