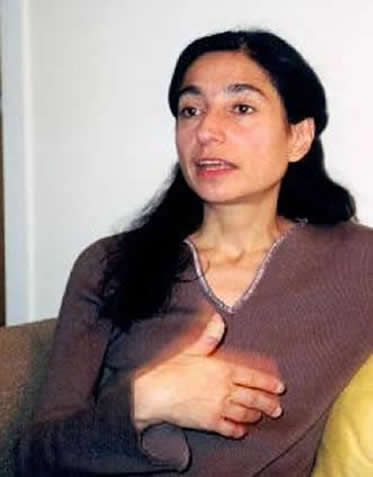 Geneive Abdo
. . . journalist. Ms. Abdo is the author of No God, But God - Egypt and the Triumph of Islam. She has been a Nieman Fellowship at Harvard, a Guggenheim Fellow and a Fellow at the Program for Near Eastern Studies at Princeton. Ms. Abdo has spent most of the last decade in the Middle East, principally in Cairo. She has been a correspondent for The Guardian, The Economist and The Dallas Morning News. She covered the fall of the Soviet Union for Reuters news agency.

1:19

3:39
A new version of democracy is struggling to be born, according to American reporter Geneive Abdo. It's happening in Egypt. And it is theocratic. Ms. Abdo has long observed moderate Egyptian "Islamists" (neither militants nor extremists) trying to find ways to modernize Islam while creating an entirely new kind of democracy which has never before existed -- a theocracy that is also democratic. Her extensive interviews and interactions were with people whose voices, she says, simply are not heard in the West.

Ms. Abdo has been a Middle East, Western and Central Asian correspondent for The Guardian, The Economist, The Dallas Morning News and the Reuters news agency and lived in Egypt. She found herself troubled by discrepancies she saw between what she considers Egypt's reality and what she calls myths generated in the West to support government policies. So she wrote No God But God: Egypt and the Triumph of Islam.

The democracy Egyptians want is an Egyptian one, says Ms. Abdo. And she acknowledges that theocratic democracy includes a lot of qualifiers. It has to be compatible with a thriving religion that is very much part of people's lives, a religion that includes politics. Yes, Islamists want freedom, but they oppose freedoms which violate religious principles. Their justice and the judicial system they seek would be based on the Sharia Islamic Law. Free expression is important and desirable, but it should not undermine religion. Then factor in Islamic feminism and an important role for education. Many of these concepts are jarring to Westerners who, Ms. Abdo contends, want new democracies to be in lockstep with Western definitions both of what a democracy is and what a state should be.

The universal assumptions of democracy most Westerners take for granted -- a hunger for basic human rights; a fair and equitable judicial system; due process; free elections -- drive Islamists, Ms. Abdo says. She is in awe of the prices many of have paid and continue to pay, including long stretches in prison where she reports torture is routine.

It was Egypt's energy and creativity that first captivated Ms. Abdo. Egyptians, she says, are uniquely adept at embracing life as it comes, able to combine their aspirations with a joy in living in the present moment. If the Islamists in Egypt are allowed more control of their own destiny, Ms. Abdo believes the result will be a better country for Egyptians. It might not be better for Western governments, she acknowledges, but it could allow for the most basic democratic experience of all -- a system that allows for self-expression. And she believes it is older democracies' responsibility to let the Egyptians try.
[This Program was recorded November 2, 2001 in Cambridge, Massachusetts, US.]