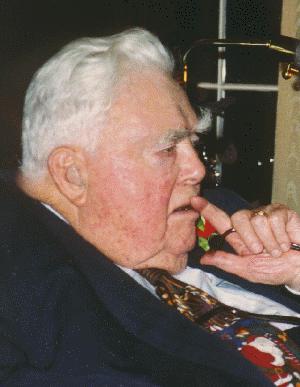 Herman B Wells
. . . legendary former president and active chancellor of Indiana University until his death March 18, 2000, Dr. Wells was a champion of academic freedom, intellectual honesty, and the power of education to foster democracy. Dr. Wells helped found both the United Nations and TIAA/CREF, in addition to growing Indiana University into a global institution. Among his lifetime of accomplishments which spanned and contributed to the 20th century, he led efforts to rebuild German higher education and peace in Greece after World War Two. He is best remembered for his kindness, humility, wit and unfailing sense of humor. (Who's Who in America 1999 contains a comprehensive list of Dr. Wells' many accomplishments and honors.)
Greatness is rare. When encountered, it is irresistible. Herman B Wells was a great man. Those privileged to know him -- and everyone who ever met Herman Wells claimed to know him -- saw the greatness in him, in spite of his genuine humility. Everything was personal to Herman Wells. He remembered people's names. He asked about the family. He stood in striking contrast to our everyday experience of hype, exaggeration, sell and spin.
Dr. Wells' life spanned the Twentieth Century (1902-2000) but he was better than his time. The world tore itself apart while Dr. Wells put his prodigious energy to maximizing what was available. As President, then Chancellor of Indiana University, he expected the best and people worked very hard to give theirs to him. He chose education as his vehicle, or perhaps education chose him. With first hand experience of the Great Depression (he then worked to strengthen financial institutions), he credited much of the good done in the Roosevelt era (of which he was a part) to student idealism -- 1920's style (which he never lost).
Herman B Wells loved Indiana but was not constrained by it. The world was his home. He shared with Wendell Wilke -- another Hoosier -- the ideal of "One World" half a century before "village" grew from local to global. He loved Jamestown (the tiny farming community where he was born, raised and to whose earth he has now returned) and Bloomington (home of his beloved Indiana University), but pledged his allegiance to a grander vision that included all the earth's people and the earth itself. (It was widely rumored that Dr. Wells threatened to chain himself to the ancient trees that grace the Bloomington campus should they need defending from thoughtless administrators' building plans.)
Herman Wells lived his greatness. He welcomed academics from wartorn Europe to small-town Bloomington, integrated the University over a lunchhour by taking an African-American colleague swimming, championed academic freedom by assuring that Alfred Kinsey could do his ground breaking work, defended tenure while creating TIAA/CREF to assure teachers a secure retirement. He acted on his certainty that a university is not a business -- it must spend money, not make it -- with state supported institutions bearing a special obligation to do their work in public.
Herman Wells made Indiana better than it knew it could be, giving countless generations of students, faculty, administrators, staff, friends and acquaintances great and small the space in which to grow. With a clarity of vision and singleness of purpose, he created an global educational institution from the modest state university it was when he reluctantly became President in 1937. "Find people better than you are, then get out of their way," was his credo. He was still active as IU's Chancellor when he died more than 60 years later.
Herman B Wells. A Great Human, who will be greatly missed.