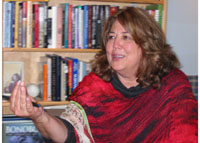 Linda Bloodworth Thomason
. . . writer. Creator and writer of television's "Designing Women," "Evening Shade," and "Hearts Afire," Ms. Thomason has been nominated for numerous Emmy® Awards, received the Lucille Ball Award from Women in Film and the Eleanor Roosevelt Freedom of Speech Award. _Liberating Paris_ is her first novel and she is writing and directing her first film. A native of Poplar Bluff, Missouri, she and her husband, director Harry Thomason, live in Los Angeles.

3:51 secs
Main Street's disappearing, strong women have been banished from TV and the public discourse has been hijacked
by terrorists. Sound like a movie "trailer"? Linda Bloodworth Thomason, admired for her success writing sitcoms long before anyone knew she had friends in politics, says it's no fiction. It's the world we inhabit. Intent on entertaining us with a vision of a better way, Ms. Thomason takes on these Big Issues, this time in the shape of a novel, a story of smart, sophisticated rural Southerners who were capable of embracing great social change, she says. Not your Hollywood fare, she points out.
Ms. Thomason and her husband regularly drive across the United States -- she likes to keep her feet close to the ground --
and she began to notice more and more deserted downtowns replaced with bypasses and mega-stores. She began to
wonder, What about today's kids? Can the Internet and strip malls really replace the sense of extended family and community she felt as a child, one of a pack of kids zooming down Poplar Bluff, Missouri's Main Street on their bikes, knowing and known to everyone? That small town shaped her own character as surely as did her rowdy family, she says, remembering her Dad regularly saying, "If you don't have an opinion, you have to go to your room." So her debut novel, Liberating Paris, feels special to her, a response to what Ms. Thomason believes is today's hunger for connection and community.

Showing us how things can be, carried on the strong back of a good story between two covers, is a natural extension for Ms. Thomason. She originally chose the venue of television, she says, because she thought it was a powerful way to reach women and she's proud of what she accomplished in her sitcoms. Novels, of course, do that too.

We need alternatives to what's now available in the mass media, she believes, particularly because there are not a lot of strong women on television today. She'd hoped she'd helped banish the deceit that women cannot be attractive and a feminist simultaneously with "Designing Women." Instead, she says, television is now over-sexed and women on TV have been reduced to being vaginal swabs in crime labs and dead hotties in morgue drawers.

It doesn't have to be this way, Ms. Thomason is convinced, remembering the promise television held when she was a girl. Viewers could reclaim TV. Baby Boomers alone could use the cathartic line from "Network" (the movie she is transforming into a play for Broadway,) "I'm mad as hell and I'm not going to take it any more." Stop buying their products, she says, and advertisers will figure out that not all consumers are 20-something males.

And what about the experience of being friends of America's First Couple throughout the Clinton Administration? She wouldn't trade it for anything, she says, remembering what sounds like abuse from the media. It taught her just how much work she has to do with her scholarship organization, working with girls in the Ozarks -- they will have to be formidable women ready to stand up to whatever is thrown at them, she says. And for that to happen, she concludes, we all have a lot of work to do.

[This Program was recorded September 23, 2004 in Atlanta, Georgia, US.]