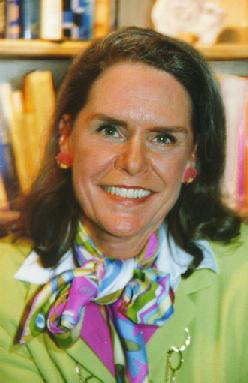 Alexandra Stoddard
Alexandra Stoddard is an artist whose specialty is designing interiors which reflect and enhance people's lives. An advisor and "house doctor," she has written 19 books calling people to beauty, integrity and abundant lives. The Decoration of Houses, published by William Morrow and Company, New York, is her latest book. It is a practical, comprehensive guide to interior design and a celebration of the classic principals first set forth by Edith Wharton.
Alexandra has two adult daughters. She lives in New York City and Stonington Village, Connecticut, with her husband Peter Megargee Brown, with whom she lives in love.

3:47 secs
You probably already know that abdicating the design of your space to someone is a prescription for madness, that clinically depressed people can be transformed by changing their environment, and that indoors is never as good outside. But somehow, it all sounds different coming from one of America's most trusted interior designers.
Don't like that chair your aunt gave you? Get rid of it. If you don't, it will disrupt your life. You should be attracted to everything in your house on some deep personal level. If you live in the dark, you will be in the dark, insists Alexandra Stoddard. Millions of Americans have come to trust her good sense and emotional strength. Both are manifest in the bookshelf full of books she's written and experienced first hand in her countless personal appearances nationwide.
Stoddard thinks of herself as a house doctor, who helps people when they need healing. If you're tempted to call an interior designer and say, "Give me a look, give me a life," Stoddard says "Resist!" Insanity lies down that misguided path. And those "Joneses" everyone seems hell-bent on keeping up with? Simply cannot be done. It's not only impossible, it's self-destructive.
Get your house right for yourself, Stoddard preaches, and it will be right for everybody else. Surround yourself with light, energy, color. Everything about your home must be a part of you because your outward manifestation is part of your inner grace. Then and only then, your home will be the sanctuary you require for a fulfilled life, your personal center on this earth.
Stoddard marries the art of living to her message of beauty, love and grace. The ties that bind are the connections between mind, spirit and body. Her latest book, The Decoration of Houses, is a practical, comprehensive guide to decorating for today's world. It expands on the classic principals first espoused one hundred years ago by Edith Wharton when she founded interior design in America, unshackling us from Victorian interiors.
Stoddard's design ideas are part of how she sees the times in which we live. She calls them "serious," and believes we must deepen ourselves to get through them. But Stoddard is the polar opposite of grim. Make life into a celebration, she insists, a ritual. Learn what you can give up. Learn that new is not better. Learn to see. Be a gardener of life. You can't do that if you're always half out of control, racing around blindly. Her mentor always said, "Living takes time!." "Hurry Never!" is Stoddard's watchword.
When one looks at Alexandra Stoddard -- whether she's holding forth in a flame red dress from the pulpit of a Jackson, Mississippi, church or negotiating an airport in chartreuse stockings -- she may appear eccentric. She'll be delighted if you laugh. She does. For Alexandra not only talks about being authentic, she radiates it. She urges us to create the spaces in which we pass our lives with equal abandon and authenticity. Beauty is truth. Truth is beauty. And Alexandra Stoddard is intent on reflecting both.