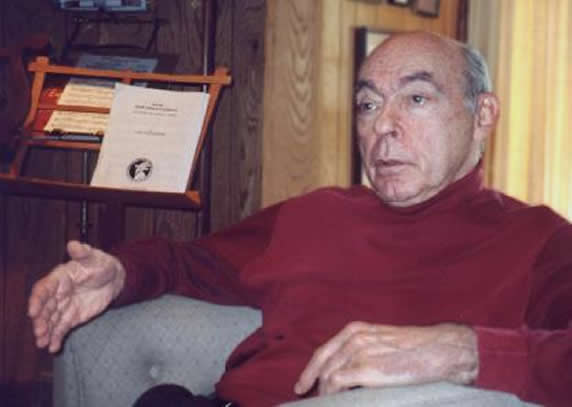 Janos Starker
. . . internationally acclaimed cellist. Born in Budapest, Mr. Starkerās honors stretch from winning the Grand Prix du Disque in Europe in 1948 to his Grammy in 1998. Principal cellist under Fritz Reiner at both the Metropolitan Opera and the Chicago Symphony, Mr. Starker has performed with every major orchestra and in recitals worldwide. He has recorded extensively and is a Distinguished Professor at Indiana University, where his students include top string players from around the world. His writings include An Organized Method of Playing. Bloomington, Indiana, is his home.

3:54
Think classical music is a thing of the past? Think again. Classical music is alive and well and getting stronger all the time, according world renowned cellist, Janos Starker. Mr. Starkerās position as an enduring giant of the music world lends weight to his optimism. Besides, he says, he's fortified by the strongest tribe in the world -- people who believe in classical music.
Mr. Starker's international recognition stretches from his days as a child prodigy in Budapest to his 1948 Grand Prix du Disque to his 1998 Grammy for his latest recording of the Bach Suites for Cello. It continues today on the world's concert stages, in festivals and cello congresses and in his world-renowned seminars. It's not the number of people who benefit from appreciating classical music that counts, Mr. Starker assures us. It's the ideal realism that springs from living a life with, in and around music. Mr. Starker and his students' cause? To bring beauty, decency, purity and simplicity in music for those who perceive it. And they're working to increase the number
Sure, there have been troubles in the past decades, in large measure, Mr. Starker believes, because the supply of extraordinarily well trained musicians was fostered in America and Europe without simultaneously increasing the demand. But this will work itself out, Mr. Starker is confident. Some of Mr. Starker's optimism is based on the growing pool of people learning the value of classical music. And parents are beginning to recognize that music education -- especially teaching children to sing -- is vital.
Besides, not everyone wants or needs classical music. Those like Mr. Starker can't live without it, of course. But he is confident classical music will play its important role in the world with only a small percentage of people fully enjoying its riches.
Can Mozart, Bach, and Brahms, change the world? Wrong question. The point is to increase those who appreciate such masters. That starts with professional musicians, people who can perform at a very high level no matter what their personal circumstance. Amateurs and dilettantes have an role, but it's the professional you want on a sustained basis. And Mr. Starker is legendary for training professionals. In addition to his extraordinary performing and recording career, he is a Distinguished Professor at the world famous Music School at Indiana University. He's a wizard at spotting a musician's weaknesses and knowing the solution. In the end, Mr. Starker's role as teacher is far more important to him than the standing ovations and the admiration of audiences and colleagues alike.
What does classical music have to do with life? Begin with discipline. Cherish beauty and balance. Seek to create and preserve purity and simplicity. Whether our goals are timeless or timely, musical or mundane, Ideal Realism shines worthy lights on us all, whatever path we follow.
[This Program was recorded March 7, 1999, in Bloomington, Indiana, U.S.]