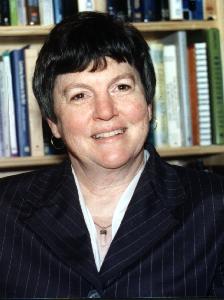 Donna Shirley
. . . was Manager of the Mars Exploration Program at the California Institute of Technology's Jet Propulsion Laboratory, which put the robot "Sojourner Truthš on Mars. Ms. Shirley is one of the world's best know aerospace engineers, the first woman ever to manage a NASA program for which NASA gave her its Outstanding Leadership Medal. Among her many honors is membership in the Women in Technology International Hall of Fame. She also makes it a point to have a life.

3:37 secs
If you want to get to Mars -- or any where else worth going -- you'd do well to be as broad a person as possible, while holding firm to your passion. Donna Shirley, the aerospace engineer who was Manager of the Jet Propulsion Laboratory's Mars Exploration Program, practices what she preaches. The combination of broad and passionate got Ms. Shirley, her team and the robot "Sojourner Truthš to Mars.
Ms. Shirley was the first woman to head a NASA project. The project earned her NASA's highest honor, but what millions know about Donna is that she was spokesperson for the widely celebrated Mars Pathfinder mission and the mother to the robot Sojourner.
It's easy to compare a woman getting to the top of the aerospace engineering profession and into the Women in Technology International Hall of Fame to landing on Mars. But the end of the Cold War has changed many things, according to Ms. Shirley. That includes the hierarchical style of management she believes is quintessentially military.
Remember, JPL's work is doing that which has never been done before. If it's easy, JPL doesn't do it. In the final analysis, getting to Mars, according to Ms. Shirley, was a challenge in managing creativity. She's confident the task could not have been accomplished doing business the old way. Hierarchy simply was too expensive. "Faster-better-cheaperš is the new paradigm (easily lost,) at the heart of which is the KISS principle ("Keep it Simple, Stupid.š)
Along with faster-better-cheaper come fast prototyping, risk management and a new metaphor for how to manage people. Ms. Shirley chooses to think about the process of management in organic terms. She draws on the observations of others to flesh out her metaphor, comparing a project to a living cell. As leader, she's the membrane around the cell. It's her job to keep nutrients in and bad stuff out ("bad stuffš includes micromanagement and theft of resources.) The people doing the work are inside the cell, where reactions go on. And those people don't need the cell wall to get involved until something goes wrong. That kind of thinking got Sojourner on Mars -- under budget.
Ms Shirley compares Project Managers to Alpha Wolves. No wonder this manager of Managers takes vacations with her daughter, paints a little, writes a few songs, acts in plays from time to time and is very big on co-workers having lots of laughs and plenty of parties.
So how is it when your lifelong passion and an interesting life land one on Mars? "Perfect,š says Donna Shirley. No confusion here.