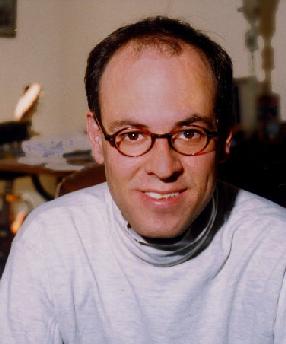 David Shenk
David Shenk is a working journalist who lives in Brooklyn, NY. He writes for Wired, Harper's, Spy and the Washington Post. He has been a commentator for public radio's Marketplace and the Microsoft Network. A former Fellow at the Freedom Forum Media Studies Center, he is also co-author of Skeleton Key: A Dictionary for Deadheads. His book, Data Smog, is published by HarperEdge.
David Shenk is an optimist about the consequences of the shift we've experienced in the past 50 years -- from information acquirers to information producers, from information hunter-gatherers to farmers.
Shenk believes it is very good news indeed that we are no longer in danger of not getting enough information, since we now live on it. He does warn, however, we now have too much of a good thing and now we must learn to be skeptical. Information must be manageable or it can poison us, distort our lives, rob us of the ability to concentrate and to focus. And the overabundance of information takes a heavy toll in our time.   All these hazards apply to our kids, too, both at home and in the classroom.
Shenk sees a real danger of becoming addicted to the thrills of modern media, intoxicated by the feeling of being connected. The stakes are high -- democracy and our fundamental liberties depend on having and sharing good information. So we must not only be vigilant, we must also learn to be more skeptical, resist becoming accustomed to today's extremely quick pace, refuse to sacrifice critical thinking, stand firm against over-simple answers to increasingly complex questions.
Shenk thinks we can do it, too. Seize control of information. He is alive to the paradox that sometimes getting control requires relinquishing control (a sore subject among extremist Internet libertarians.) Fortunately, both journalism and government work very well in this society. Both can help us redefine an appropriate balance in our lives and exercise appropriate control over the new technologies and the glut of information which have invaded our lives.
One sure sign of progress. Increasingly, people are getting more sophisticated, exercising restraint on how information impacts their lives. People are beginning to demand balance in their lives. And quiet. With Time Square effectively having invaded our homes, we'll begin to define"progress" by how well people make new technologies work for us instead of us mindlessly adapting to the new technologies.
Suggestions:
Information overload is like pollution -- take control of it or it will suffocate you.
Be wary of technology. Adapt it to your uses, rather than you adapting to it.
Don't be overwhelmed. You simply can't keep up with everything, there's too much.  
Raw information is raw potential. It has no value until it is converted to knowledge.