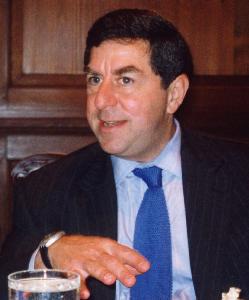 Michael Shapior
. . . Art Museum Director. Michael E. Shapiro is the Nancy & Holcombe T. Green, Jr. Director of Atlanta's High Museum of Art. His series of ambitious and highly successful exhibitions has brought many of the world's masterpieces to the Southeast. Prior to the High, Dr. Shapiro was Director of the Los Angeles County Museum of Art, having also served as Chief Curator of the St. Louis Art Museum. Specializing in 19th and 20th century painting and sculpture, Dr. Shapiro has taught at Duke and has numerous exhibition catalogues, books and articles to his credit. His master's and Ph.D. degrees in art history are from Harvard.

2:34 secs
[This Program was recorded September 20, 2002 in Atlanta, Georgia, US.]
Art museums are dedicated to the power of the authentic, according to Michael Shapiro, Director of the High Museum of Art in Atlanta. That's particularly important in an age when practically everything is replicated, ersatz and/or of souvenir quality. Dr. Shapiro and his hardworking museum staff delight in providing an affirmative answer when people ask, "Is that the real thing?š
Bring what you will to an art museum, Dr. Shapiro invites the world, just come. Once there, you're more than likely to find that the people who make beauty their business have spent a lot of time and energy making it possible for you to morph from spectator to participant. Don't think there's a "right wayš to experience art, he says.  There's no predicting how any of us will respond in the presence of greatness. We all have complete freedom to engage at whatever level we like -- emotionally, intellectually, spiritually or all of the above. That welcoming sweep of opportunities for individual enjoyment is part of what makes great art from across the ages and in all media... great.
If you somehow still harbor the notion that art museums are opaque storage vaults, think again, he urges. American museums have taken a leading role in being much more open, experiencing dramatic changes in the past decades. The explosion of interest in the King Tut Exhibit in 1976 was key. Most museums now see themselves as places that promote beautiful experiences as well as offering beautiful objects.
The idea of a secular cathedral has gained ground -- a safe place to gather with other people in the presence of greatness. With the expansion of its award-winning facility in Atlanta, Dr. Shapiro is part of a trend to return to the concept of the heart of the city, providing a community gathering place which offers food and music and a sense of belonging along with unique, rare and special objects.
What happens when you come close to works of art? Michael Shapiro thinks you begin to see how many inflections there are, how many nuances, subtleties. You can come at it from any number of angles, but it's always going to give more back to you
In the end, works of art are always a mystery, he assures us. The greater the work of art, the deeper the mystery. He delights in human beings looking at inanimate objects which then reflect back on human beings, marveling at what it took to create something unique
Be present with a unique object, he urges. The experience echoes that of its maker at work. You are also part of the great river of all the people who have been there before you, stood in that same relationship with the object -- experiencing exactly the same thing but differently -- connecting the eye, the hand and the mind, confirming what it is to be human.