There's something special about land. For 25 years, a remarkable organization called the Trust for Public Land (TPL) has been a catalyst for people working together on the local, state and national level to conserve land for people. In addition to creating open spaces in urban centers, protecting watersheds and creating economic boons, there's been an equally important benefit -- a sense of community arises when people are focused on saving or creating "land for people."
The Trust for Public Land draws people together as we Americans struggle to overcome "the arrogance of abundance." The Trust helps local people, real estate developers, environmentalists, politicians and other unlikely bedfellows create partnerships. Together, they create solutions to sometimes immensely complicated challenges. Wildlife is often a beneficiary, but people are TPL's focus. TPL's certain that our cities are vital to our individual and collective well being. They are also confident their ambitious goals can be reached -- with a lot of help.
This quiet non-advocacy group is fiercely inclusive and has an astonishing success record. In 25 years, they have facilitated 1,500 transactions in 44 states with an acquisition valuation of over $1,000,000,000 (that's $1B) to their credit. They provide local leaders with the intellectual capital born of this vast experience as well as real capital. Their long range plans include raising $3B by the year 2000 while expanding their cities program to 30 cities.
Christopher Glenn Sawyer is the new Chairman of the Trust's Board, the first from outside TPL's base in the San Francisco Bay area. His ascendancy represents the decidedly national character of the Trust which grew from roots in The Nature Conservancy.
Local leaders supported by the TPL are beginning to have a profound impact that's stretching from America's urban centers to our watersheds and deep wilderness areas. Is TPL's greatest accomplishment the powerfully positive economic impact of solving problems before they arise or open spaces in urban centers or the sense of community that grows among people working together to protect land? You pick. They don't have to.
What does it take to make your dream of saving or creating a special place in your community? First, decide what in your surroundings is important to you, worth preserving or creating for your children and grandchildren. Then be confident your dream can become a reality. The Trust has a whole tool kit of ways to work through all the complex nitty-gritty realities of putting together land deals. They've made 1,500 dreams come true. And they've only just begun.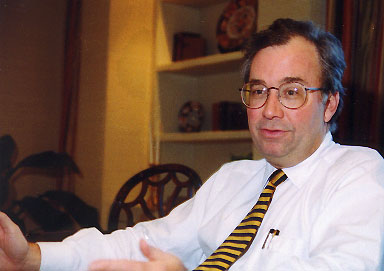 Christopher Sawyer
Christopher Glenn Sawyer is the Trust for Public Land's first chairman from outside the San Francisco Bay Area. He's a real estate lawyer, partner and head of the real estate investment section of the prestigious 103 year old Atlanta, Georgia, law firm Alston & Bird, where he's worked since 1978. He graduated from the University of North Carolina, holds a Master of Divinity from Yale University where he was a Rockefeller Fellow and earned his law degree from Duke University.
Chris spent childhood summer vacations roaming marshes which have given way to high-density development around Murrell's Inlet, South Carolina. He lives in Atlanta with his photographer wife, Julie, and their two children who are reported to share Chris' devotion to fishing.