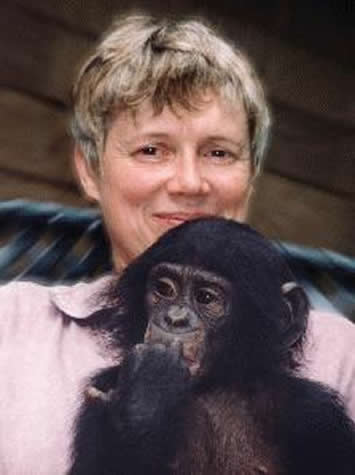 Sue Savage-Rumbaugh & Nyota
. . . is an Professor of Biology at Georgia State University, and a leading ape-language researcher. Dr. Savage-Rumbaugh is author with Roger Lewin of Kanzi, The Ape at the Brink of the Human Mind, published by John Wiley & Sons, Inc. Nyota was born in the Spring of 1998. He is just over a year old in this picture.
Edited Excerpts:

3:29
With luminous big brown eyes and a winning smile, the lovely lady looks like 'Lucy,' our oldest human ancestor. But she's not. She's Panbanisha, a Bonobo chimpanzee who's learned English from Dr. Sue Savage-Rumbaugh.
Savage-Rumbaugh and her research associates study primates and language at Georgia State University's Language Research Center (LRC) in Atlanta, Georgia. Panbanisha and her famous half-brother Kanzi interact with scientists -- in English. Because chimpanzee vocal chords don't create humans' sounds, the Bonobos use lexigrams on a computer-based keyboard. In this wide-ranging conversation, Dr. Savage-Rumbaugh introduces us to Bonobos and to the work she and her LRC colleagues are doing which also helps retarded and language-impaired human children.
Savage-Rumbaugh's on-going primate studies research stirs controversy. "If we restrict ourselves to requiring other primates to think like humans do, we won't learn about them or ourselves. Bonobos are not object-oriented like humans. We must approach interactions and relationships with and between Bonobos the way we approach any other culture we do not understand...before it's too late," Bonobos are faced with extinction, hunted as meat in the one place on earth they are found in the wild -- the Democratic Republic of Congo, formerly known as Zaire.
Finding herself in the thick of battles raging around the role and importance of "language," Dr. Savage-Rumbaugh focuses on her work. "Language is the home of the mind. It's humankind's tool. We apply it to everything,. But research is bound by the current constraints of our science. Traditional scientific approaches do not work when studying relationships. No interaction ever repeats itself, not between humans and chimpanzees, not between two humans.
"We haven't begun to study how language functions as a social regulator, how language establishes rules for social interaction. In the wild, Bonobos live in large social groups. Their social/sexual behavior is human-like. They have something like language. We must open our hearts and minds, search for joint interpretations, make sense from joint communications as a different way of processing. We must ask different, complicated questions. The answers have profound social and political implications for both species."