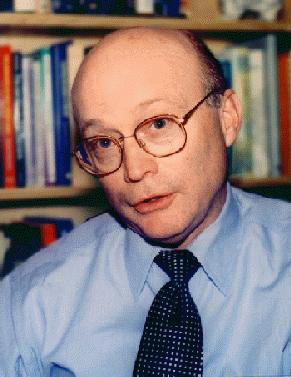 John W. Rowe, M.D.
. . . is President of the Mount Sinai School of Medicine and Mount Sinai Hospital in New York City. He chaired the MacArthur Foundation Research Network on Successful Aging since its inception. He and his family live in Manhattan. æHis wife is a teacher and he regularly walks to work through Central Park.

3 min: 39 secs
We are responsible for our own successful aging. ItÍs not really life span that matters, itÍs health span -- how well we function physically, mentally and socially. Research scientists led by John Rowe and his colleague Robert L. Kahn, spent 10 years and twenty million of the MacArthur FoundationÍs dollars to study how people can age successfully. They went beyond defining successful aging as avoiding disease and disability to focus on maintaining mental sharpness, maintaining physical function and what they called ñengagement with life.î
ThereÍs all kinds of good news. For starters, you are responsible. The lifestyle choices you make right now largely determine your health and vitality as you age. These choices turn out to be even more important than heredity in determining how well you function and for how long.
The research dispels all kinds of myths: Only a very small (and declining) number of people end their lives in nursing homes; to be old is not necessarily to be sick; genetics are far less important than lifestyle to how you age; the aging body responds to change and is capable of startling improvement; and older people learn differently than young people but they do learn -- well. Research also confirms that we need each other. Dr. Rowe talks about how we move through life in a ñconvoy, î surrounded by others whom we need and who need us. This emotional support proved to be particularly important to men as they age.
All the things common sense tells you matter, do. Nutrition is important. Research supports taking some vitamins and supplements (B6, folic acid, selenium, vitamin E, vitamin D3 and calcium) and avoiding others (DHEA and melatonin.) ItÍs no surprise that exercise is vital but it is surprising both that moderate aerobic exercise is as good as strenuous exercise and resistance exercise (weight lifting) is as important as aerobic.
As we change our strategies to health promotion/disease prevention, we can reduce health care expenditures while life gets longer and healthier. There's an added bonus. This new way of thinking is also a viable way out of the Medicare problem.
The hierarchy of successful aging begins with avoiding disease and disability. Accomplish that and you can actively change your life to increase the likelihood of maintaining or even increasing your mental sharpness and physical function as you age. Then youÍll be ready for the third element of successful aging -- engaging with life, remaining productive parts of our own personal ñconvoy.î How long we live and how well turns out to be largely in our own hands. And life, after all, is what aging successfully is all about.