Rodale Press' CEO Ardath Rodale (who her 1,400 employees and all children call "Ardieš) has doubled the size of Rodale Press since she took over when her husband, Bob, died in 1990. What are health, fitness and inspiration worth? A lot more than the half a billion dollars Rodale Press netted in 1997.
Ardie Rodale is Chairman of the Board and Chief Executive Officer of Rodale Press, Inc., which publishes Prevention Magazine, Men's Health and a host of other magazines and books. Ardie attributes Rodale Press's success to a clear commitment to the company's values of health, fitness and inspiration. She says the commitment is balanced with and fueled by the nervous tension needed to generate new ideas and expansion. Her approach is deceptively simple. Rodale Press' mission is to make the world better. Every magazine and book helps people take control of their lives. They all say, "You can do it. And here's how.š
Ardie's convinced having a woman as CEO was what triggered Rodale Press' explosive growth. "You need both the male and female in order to be a whole company,š she asserts simply.
Leadership is a hallmark of Rodale Press. When the first Rodale -- Ardie's father-in-law -- started the company in 1942, he knew organic farming could help people create healthy soil in which to grow healthy food for healthy people. But he faced stiff opposition from chemical fertilizer companies. So it is with added pleasure that Ardie describes today's Rodale Institute bringing her father-in-law's ideas full circle, training locals in Senegal and Guatemala to teach their own people how to grow healthy food -- organically.
For a CEO, Ardie Rodale finds her inspiration in unexpected places. The Mennonites taught her about the simplicity of life. She built a Pueblo Indian-style kiva in the middle of Rodale Press' main office building. Their energy center offers yoga, meditation and inspirational speakers. The company's day care center is bursting at the seams. She creates her own quiet times so she can listen to herself. But Ardie's office door is always open. Men as well as women come by to share their gladness and their sadness, both genders eager for the hugs she offers. This is a CEO who -- quite literally -- stays in touch.
How does CEO Ardie Rodale keep a sunny disposition in the face of unrelenting family tragedies and the pressures of a major corporate enterprise? "That's easy! I have come to realize how precious each day is. I found the joy of being grateful.š
Meet one CEO who is NOT resigned to business as usual. And it works!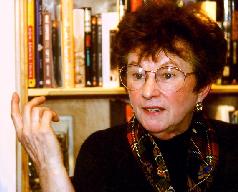 Ardath Rodale
. . . is Chairman and Chief Executive Officer of Rodale Press, Inc., a privately held company with revenues of half a billion dollars a year. She writes for Rodale Press's Prevention Magazine and her Chicago Tribune column is about to be syndicated by the The New York Times Syndicate. Ardie travels widely, sometimes with children and grandchildren. And she is a known hugger of people and trees. Her latest book, Gifts of the Spirit, is published by Daybreak Books, and distributed by St. Martin's Press.

2:11 secs