The 'problem' in America is not 'race,' according to Harvard sociologist Orlando Patterson. We've made enormous strides on 'race' in the past 30 years, even though there's more to do. The problem in America is poverty. And that's a national disgrace.
Patterson is an historical sociologist and Professor at Harvard University.╩╩After a lifetime studying slavery, freedom and ethnic inequality worldwide, Patterson concludes that the challenge in America is no longer 'race,' Three-fourths of America's 33 million African-Americans have dramatically improved their lives since the early '70's, even accounting for the realities of stagnation.
Patterson demonstrates the mainstream culture in America is as much African-American as European-American. ╩ He has evidence that ordinary people of all ethnicities are committed to integration. And that they're optimistic. He urges us not to be led astray by those who insist race is polarizing America. It's just not true," he proclaims.
Poverty, not race, is America's shame, he shows. And poverty affects Euro-Americans as brutally as it does Afro-Americans. Do the arithmetic, Patterson challenges. When two people both work two minimum wage jobs, at the end of the week their family's income is still below the poverty line. He calls this a reservation wage, not a living wage. And it's getting worse, not better, in the richest nation in the world.
While declaring poverty our national shame, Patterson provides a range of examples of the real progress we've made living together in a multi-ethnic society. Why don't we know what a good job we've done on the 'race' front? Because a host of national leaders -- liberal and conservative, white and black -- stand to gain from a stereotype of a racially polarized society. Social scientists are as guilty of this as the media, politicians and 'race leaders,' according to Patterson.
Instead of succumbing to gloom and despair over so-called intractable problems, Patterson calls people of all ethnicities to build on the actual progress we've made, living together. He has a time-limited plan to continue affirmative action until everyone has access to social capital. He has suggestions for creating a culture where teenage childbearing no longer is "cool." And he calls for an economy where poverty no longer isolates anyone. That will take national solutions based on national changes in our economy.
Patterson believes that saying 'race is the issue' gives people an 'out.' "We are so busy talking about 'race' that we no longer view our very real economic challenges in structural terms. That's what it took to pull ourselves out of the Great Depression."
Keep a climate of optimism, urges Patterson. Base that optimism on the real progress we've made creating a global culture. If we give in to the defeatists and pessimists, we play into the hands of those who would keep us separate. And separate is never equal.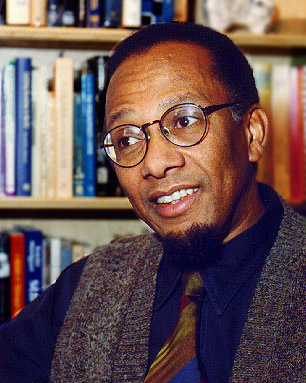 Orlando Patterson
. . . is an historical sociologist and Professor at Harvard University. He won the 1991 National Book Award for Freedom in the Making of Western Culture, appears regularly in The New York Times, Newsweek, and The New Republic. He also served as special adviser for social policy and development to Jamaican Prime Minister Michael Manley during the 1970's, was on the faculty at the London School of Economics, and has published three novels. His latest work is The Ordeal of Integration, the first of a trilogy, published by Civitas/Counterpoint, distributed by Publishers Group West.

3:10 secs