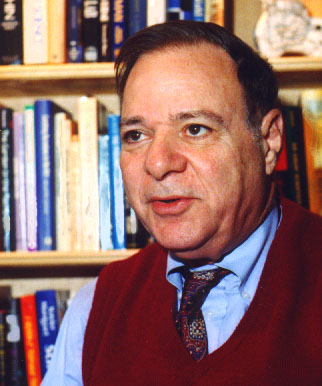 Don Oberdorfer
. . . has spent 38 years in journalism, including 25 years at the Washington Post where he was their diplomatic correspondent for almost two decades. His two other "contemporary history" books are Tet!, a National Book Award finalist, and The Turn: From the Cold War to a New Era. Having won a number of prestigious journalism awards, he is currently journalist in residence at the Foreign Policy Institute of Johns Hopkins University's Nitze School of Advanced International Studies in Washington, D.C.

3:24
You should care about Korea -- both of them. It's more than the curiosity of one homogeneous people arbitrarily divided, through not fault of their own, into two radically different political and economic systems. You should care, according to Don Oberdorfer, because North Korea is a "failed state." And South Korea, as it has recently demonstrated, has its own challenges which it readily shares with the rest of the world. You should care because the world's two largest standing armies virtually look at each other across the not-De-Militarized Zone (DMZ). "There is no 'D' in the DMZ!" And you should care because South and North Korea both have made serious runs at joining the world's nuclear weapons club.
Oberdorfer was concerned that Americans DON'T care. He worries that we only pay attention to Asia in general and Korea in particular when they show up in the headlines. He firmly believes that our lack of interest when combined with our lack of knowledge puts the whole world at risk. So he did something about it. He wrote a "contemporary history" of the two Koreas
Oberdorfer is uniquely qualified to find and report the story. He was diplomatic correspondent for the Washington Post for 17 years. He had covered Vietnam (and has written extensively about it) and his specialty was NorthEast Asia. But he also spent a lot of time in the rest of the world, especially the Soviet Union. So his contemporary histories result from his access to the people who created that history. Access and information are no mean feats when you want to know about the notoriously closed society created in North Korea so that neither enemies nor friends need influence "The Great Leader" Kim Il Sung's decisions.
There is much uncertainty about the two Koreas, but one thing that will NOT change is Korea's geography which has influenced it's course for millennia. China, Russia and Japan are its neighbors. But the whole world should be thinking of Korea as a neighbor according to Oberdorfer, and a dangerous one at that.
Oberdorfer is convinced the two Koreas will one day be united. The question is how do we get from two to one. Scenarios now being suggested are all very dangerous. Oberdorfer bows to renowned British historian Dame Veronica Wedgewood who said, "History is written backward but lived forward. Those who know the end of the story can never know what it was like at the time." It is in our collective interest to know a lot about what the history of the two Koreas is, as that history is being created. It may well touch us all.
[This Program was recorded November 14, 1997 in Atlanta, Georgia, U.S.]