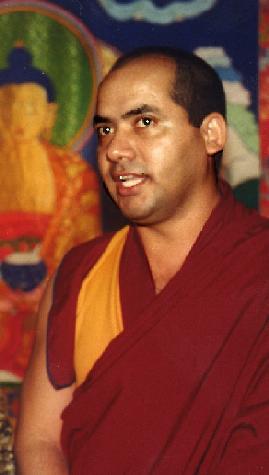 Geshe Lobsang Tenzin
. . . is Director of The Loseling Institute, an affiliate of Emory University in Atlanta, Georgia, and the North American Seat of Drepung Loseling Monastery.

3:10 secs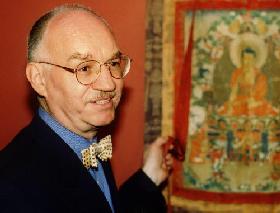 Lloyd Nick
. . . is Director of the Oglethorpe University Museum in Atlanta, Georgia, and is recognized as a painter as well as museum curator.
Powerful magic resides in ãThe Mystical Arts of Tibet.ä So says Lloyd Nick, a museum director-painter-curator who dreamed up the exhibit which will soon tour the world. The power in this art is the power of human creativity, the power of love toward humanity, Nick believes. The exhibit includes personal sacred objects of His Holiness the Dali Llama, Tibetâs spiritual and temporal leader, objects which had never been seen by outsiders before the exhibit opened in Atlanta during the 1996 Olympics.
This is the first glimpse most Westerns have had of Tibetan culture and arts. Thousands flocked to it in 1996 and more are expected when the exhibit returns to Atlantaâs Oglethorpe University Museum, April 5 - June 7, 1998. The Dali Llama will also be in Atlanta during part of that time and will visit the exhibit. Then the exhibit will go out into the world for the next several years.
Tibetan monk Gesha Lobsang Tenzin is Director of the Loseling Institute, the North American Seat of the Drepung Loseling Monastery which was in Tibet until the Chinese invasion in 1959. He is very clear about the primary objective of the exhibit -- it is to promote compassion and kindness. Kindness belongs to no one, yet is needed by us all. In fact, the Dali Llama says that kindness is his religion.
While Westerners are awakening to Tibetan art and culture, Tibetâs situation at the hands of the Chinese government appears to be getting ever worse. This reality adds urgency to the Tibetansâ hope that their art and culture will stir Westerners to challenge Chinaâs brutal policies toward Tibet, to end Chinaâs human rights abuses and cultural genocide in Tibet.
Refugee Tibetans worldwide are realistic about the stark realities in their homeland. Yet they find reason for hope as Westerners are drawn to their art and culture. Their hope bittersweetens their stories of young Tibetans risking their lives and liberty, seeking the freedom simply to be Tibetans. æThey brave weeks afoot across the Himalayas simply to be able to speak their own language, practice their own religion and live within their own thousand year old culture. The exhibit is helping raise much needed funds for these young Tibetan refugees fleeing China -- money for their food, shelter, education and health care.
What does the magic invoke in people experiencing these remarkable objects? Lloyd Nick believes what people find is themselves. Welcome to a new way of seeing. And do remind your political leaders -- until Tibet is free, we all are captive.