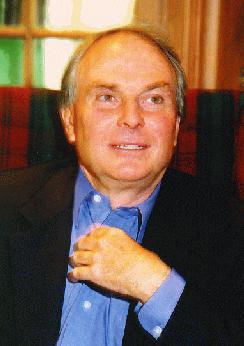 Michael Murphy
MICHAEL MURPHY wrote Golf in the Kingdom and its sequel The Kingdom of Shivas Irons, In the Zone and others. Co-founder of the Esalen Institute with Richard Price in 1962, Michael helped initiate Esalen's Russian American Exchange Program. He continued to study philosophy at Stanford University after graduating from there, and subsequently spent a year and a half in the Sri Aurobindo Ashram in Pondicherry, India. He now lives in San Rafael, California.

3:42 secs
Move over, man-the-toolmaker, we're evolving toward man-the-playful! To Play, according to Michael Murphy and ancient Eastern philosophy, is at the heart of existence. All creation and creativity are forms of this joy. "Delight" is sport's special genius, and the reason humans love sport so much, Murphy believes. And because when you are participating in a sport you're doing something you love, something you don't have to do, miracles happen.
Michael Murphy introduced "the zone" to the sporting world. His ideas about sports draw on his life-long study of philosophy. Golf in the Kingdom, which Murphy wrote 25 years ago, is a parable about experience and meaning. It's sold over a million copies in 10 languages and now has a sequel, The Kingdom of Shivas Irons. Murphy is also know for co-founding the Esalen Institute in 1962, a conference center in California's Big Sur country, committed to learning through experience. Two hundred centers worldwide exist today, based on Esalen.
Sport, Murphy is convinced, has a genius. It's a powerful way to learn about openings to a greater life, to deliberately cultivate human transformation. Whatever the sport, people participate in a bounded space with a set of rules, playing out of pure joy. That's the critical importance for ╬homo ludens,' man the playful. We are human in the best sense when we embody that attitude of playfulness.
Murphy believes golf is unique among sports (while proclaiming we can learn the same lessons anywhere, including in the mundane pursuits of daily existence.) He believes it's no accident golfers all over the world tell him stories of having experienced a sense of the sublime in the course of playing.
For starters, Murphy acknowledges golf is absurd -- like life. Skill is essential. So is quietude -- golf requires a deeper stillness than adrenaline-driven games like tennis. There's a commitment to the rules in golf. It's profoundly ethical -- you score yourself and everyone in the clubhouse knows the cheater. (Contrast that to football where, Murphy says, one gets away with as much as one can.)
And golf provides the all-important context that's essential to accessing the transcendent. Context is an overwhelming theme for Murphy -- whether revisiting the 1960's context in which he and Richard Price created the Esalen Institute, or the context which Esalen provided for people to courageously face the unknowns within themselves, or the context of everyday life in which we all live. Context is a critical condition for learning and evolving, part of whatever "core practice" one chooses to pursue.
Murphy believes golf itself is evolving and with it, he hopes, even "the Republicans among us," to whom he says golf offers access to enlightenment.
Once again, participation precedes learning.