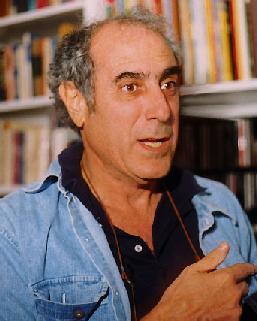 Jeff Moss
Jeff Moss was co-creator of "Sesame Street."With Jim Henson, he served both as head writer and composer/lyricist. The characters Cookie Monster and Oscar the Grouch and the song "Rubber Duckie" are all his off-spring, though he stresses the collaborative efforts required to create and sustain the children's television sensation for more than 25 years. Six of Jeff's children's books are currently in print, including his newest, Bone Poems, created with the assistance of the American Museum of Natural History, illustrated by Tom Leigh, and published by Workman Publishing, New York.
Jeff lives in New York City with his wife Annie, their six year old son and Rubber Duckie.

3:42 secs
New York - Jeff Moss, one of the co-creators of "Sesame Street," believes 10 out of 10 kids will always choose a parent, grandparent, sibling or teacher over a television set. If the youngster can latch onto that chosen one, they may very well share one of Jeff's story books, song books or poetry books.
New York Newsday calls Jeff Moss the children's poet laureate. He served with Jim Henson as both head writer and composer/lyricist on "Sesame Street." Today, Jeff continues to contribute to "Sesame Street" and other MuppetĘ projects, while his best-selling children's stories and poems stand shoulder to shoulder with the Emmys, Grammys and his Academy Award nomination on his overflowing shelves.
Everything Jeff writes is meant for kids and adults alike -- kids are the "bull's eye" on his target, but teachers, librarian, parents and grandparent, college students and even his orthopedist are also welcome in Jeff Moss' universe.
Jeff's keenly aware that today's kids are awash in sensory inputs, subject to all kinds of stimuli which ought to give us all pause, including a lot that's on television. And he's mindful that our future is directly linked to the kinds of kids we're growing. So he writes about families and love and hate and sadness and delight, offering glimpses into the experience of being human.
In the end, it is the mark of Jeff's considerable art that all his creations seem inevitable. Like Cookie and Oscar. And Jeff holds tight to the notion that it's the simple things -- like the passion of a small green frog for his rubber duckie -- that make life sweet.
Now Jeff's walked down the street from his Manhattan apartment into the American Museum of Natural History. He's turned his respect, his wit and his discerning eye to the dinosaurs. What's their attraction? Maybe that we have a safe 65 million years separating us from their great size and their 150 million year reign on earth. (We've only just begun.) Whatever the inspiration, Jeff makes his poems about Stegosaurus look as effortless as "I Love Trash" sounds coming from Oscar the Grouch, as inevitable as the Muppets taking over Manhattan.
Why do Cookie Monster and Oscar the Grouch, Tyrannosaurus Rex and the yak's Jack have such power over young and old alike? Jeff Moss is confident we all share the same emotions -- joy, sadness, love and quirks -- no matter what our age. It's all in what we choose to obsess about!