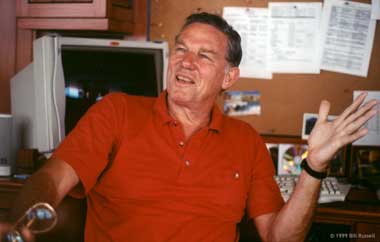 Robert A. G. Monks
. . . is the world's most prominent -- some say feared -- shareholder activist. He is founder and Principal of LENS Inc., an investment fund which poorly performing companies and uses active shareholder participation to turn them around. He founded the leading corporate governance firm, has served on the board of a dozen publicly held companies, was head of The Boston Trust and has served in the federal government. With Nell Minow, he coauthored Watching the Watchers and Power and Accountability. The Emperor's Nightingale was published in 1998.

3:49 secs
Corporations are probably the noblest experiment we've ever managed, contends Robert A.G. Monks. But sadly, Adam Smith's "agency problem" has come to life -- the interests of the people who run corporations are no longer the interests of the corporations' owners. At the same time, those very owners -- the shareholders -- are too often happy to have the benefits of ownership while failing to exercise their responsibilities. That's too bad, according to Monks, because companies are worth more when their owners are involved. Activism is cost-effective.
Monks is admired - and feared - as one of the world's most prominent shareholder activists. He co-founded and is a Principal of an investment fund that targets poorly performing companies and, with active shareholder participation, turns them around. He is also the great-grandson of a founder of both General Electric and AT&T. He understands being a shareholder.
In a free society, Monks believes power requires responsibility. And power exercised in a free society by non-elected people is a contradiction in terms. That's a problem, since power today resides in corporations, not in government. So corporations must force accountability upon themselves, Monks contends.
When CEOs can hide stock options from the bottom line and Big Tobacco can manipulate public policy with a single $30M ad campaign, Monks believes it's time to acknowledge that the Market is a theoretical concept which is skewed, impoverished, coerced, misinformed and manipulated by corporate managers to their own ends. He's confident shareholder activism and large institutional investors can help. The United States, Holland, Canada, the United Kingdom, and Australia all have funded pensions which add up to $10trillion. But before they can be effective, those in positions of trust must resolve conflicts which mistakenly have them placing the interest of corporations ahead of the interests of trust beneficiaries.
Monks finds fertile possibilities in thinking of corporations as complex adaptive systems. Move beyond the language of power. Update outdated financial statements to reflect what is now important -- creativity, energy, the capacity of people to innovate. Address today's intolerable discrepancies between winners and losers before it is too late. He is heartened by the emerging power of female energy in the business world. Women have proven themselves competent surrogate men and are now poised to move beyond that linear way of thinking to a more holistic mindset which can humanize corporations.
Monks urges that we hold Corporations to a minimum standard. He proposes the Engel Triad: Corporations must 1) obey the law, 2) disclose fully the impact of their functioning in society and 3) have a restrained impact on government. Since Monks is confident long-term capital will define national strength in the 21st century the way nuclear weapons did in the 20th and navies did in the 19th, there's no time like the present.

[This Program was recorded September 9, 1998, in Cape Elizabeth, Maine, US.]