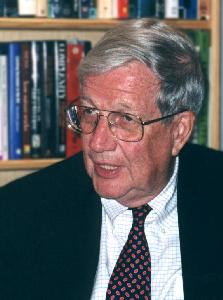 Ambassador William Luers
. . . Chairman & President, United Nations Association of the United States of America (UNA-USA). Ambassador Luers' distinguished diplomatic career spanned 31 years and much of the world.  He served as Ambassador both to Czechoslovakia and Venezuela. Then he was President of the Metropolitan Museum of Art in New York City for 13 years before joining UNA-USA. An active member of the Council on Foreign Relations and other public policy organizations, Mr. Luers serves on a number of corporate and non-profit boards, speaks on policy and arts issues around the world and publishes widely on foreign policy issues.

3:43 secs
[This Program was recorded April 6, 2001 in Atlanta, Georgia, US.]
The future of America depends on being cooperative, says Ambassador William H. Luers. American "engagement" is critical in the world's current high stakes poker. Humanity, he says, is waiting for America to be a part of it. Three billion people are living on the edge, waiting for us to address the division of riches and communications and access to the globe. If we decide not to cooperate, Ambassador Luers sees America's future destined to failure, its civilization at an end. Period.
The message for the 21st Century is simple, says the Ambassador, a long-time career diplomat and now Chairman and President of the United Nations Association of the United States of America (UNA-USA). We do better when we cooperate. Work with others. Negotiate. Find solutions together. The good news is that most Americans agree with Ambassador Luers, according to independent studies. Americans are, by and large, eager to share the burden of addressing the complex issues which characterize today's increasingly interconnected world.
The U.N.'s peacemaking and peacekeeping activities dominate headlines, but fully 70% of the UN's resources are committed to NON-security activities. The UN facilitates the networking of vital organizations, world-wide, Ambassador Luers reports. It brings together traditional power centers -- governments, NGOs (non-governmental organizations) and corporations -- plus non-traditional ones, including individuals in United Nations Associations around the world, including UNA-USA. UNA's membership covers the political landscape, ordinary people solving problems. When someone "Adopt(s) a Mine Field" (just one of UNA-USA's many projects,) fields currently harvesting death and dismemberment can return to a more productive use -- feeding hungry people.
Today's need for cooperation is on a scale larger than that to which Americans are accustomed, Ambassador Luers understands. But he's hopeful that cooperation's benefits can wean America from its tendency toward insularity. As a nation made up of many cultures, the United States, he believes, is uniquely positioned to engage enormous problems, to be a kind of "Curator of the Whole," says this former President of the Metropolitan Museum of Art in New York. After all, Ambassador Luers reminds us, America is a microcosm of the unity of human experience on the planet.