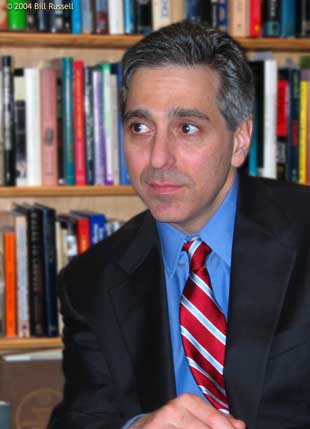 Evan Levine
... practicing cardiologist and internist in New York City. Dr. Levine is affiliated with the Montefiore Medical Center where he is a clinical assistant professor of medicine. He was a summa cum laude graduate of a program associated with the City College of New York and Mount Sinai School of Medicine. He has offices in the Bronx and Yonkers. Dr. Levine is author of What Your Doctor Won't (Or Can't) Tell You: Doctors, hospitals, drugs, and insurance -- what you need to know to take charge of your own health care.

3:18
T
he health care system "stinks" in the United States, according to Dr. Evan Levine. He's a practicing cardiologist who refuses to be silent any longer about what he considers the terrible condition of America's biggest industry -- health care -- where Americans spend $1.5 trillion every year. Dr. Levine's convinced that most of this enormous sum is going to the wrong people -- pharmaceutical industries, CEOs of big insurance companies and hospitals, duplicitous doctors and malpractice attorneys -- instead of taking care of patients, rewarding good doctors, or addressing the needs of more than 43,000,000 Americans who have no health insurance.
Everyone's worried about health care in America, Dr. Levine believes. His "diagnosis" is that America's health care system is broken, its sickness systemic. Why? Because people's lives and health have been reduced to serving the interests of big business, he's observed. It's all topsy-turvy, he says, urging us to protect ourselves, to speak up, and to demand that politicians both pay attention and act.
Dr. Levine's quick to applaud the great, hardworking doctors who, like him, are distraught. But he doesn't leave much to the imagination, convinced that: prescription drugs cost too much and generics are used too seldom; too many tests are being ordered; a hospital administrator is considered "good" if he or she balances the books even if the hospital's services are terrible; CEOs of big insurance companies and hospitals are paid too much; unscrupulous doctors inflate their incomes with a wide variety of schemes and scams; malpractice attorneys take advantage of a bad situation, egged on by individuals who refuse to face the fact that we all die; nursing homes are places to be avoided; and politicians are part of the problem. And, oh, yes, there are those 43,000,000+ Americans with no health insurance.
Dr. Levine believes the pharmaceutical industry is the major culprit in driving up the cost of health care. He's convinced that they charge too much for name-brand prescriptions and inappropriately reward doctors who prescribe their brand instead of another brand or generics. He objects that pharmaceutical "Reps" -- sales people -- are allowed to purchase lists of the prescriptions your doctor writes and use that information as part of their sales calls. He believes the pharmaceutical companies have completely infiltrated the medical profession -- from medical students and office staff to doctors who review and approve drugs while on the payroll of the drug's manufacturer. And he's outraged when generics -- which are guaranteed by the U.S. Food and Drug Administration (FDA) to be EXACTLY the same as prescription name brand drugs -- are represented incorrectly. Dr. Levine also questions the role of the pharmaceutical industry in the current Medicare prescription drug program, a program which he believes might be entirely paid for if generic drugs were used.
The prescription? Get our priorities straight. Take care of people, not big business. Why are we hearing this from a cardiologist when most of the medical establishment is mute? Because, he says, he's a former kid from Brooklyn and he doesn't like to get pushed around by bad people.

[This Program was recorded February 26, 2004, in Atlanta, Georgia, US.]