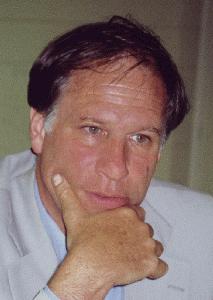 Robert Krulwich
. . .ABC News correspondent since 1994. Specializing in explaining complex news about economics, technology and science, he has produced and co-hosted series with Peter Jennings, Ted Koppel and Barbara Walters. Prior to ABC, Mr. Krulwich appeared regularly on "CBS This Morning,š "48 Hoursš and "CBS' Nightwatch with Charlie Rose.š From 1978-1985, he was business and economics correspondent for National Public Radio, to which he still contributes. His reporting for PBS' "Frontlineš has won a number of national awards.

4:00 secs
Once upon a time, American network news organizations took risks. Now those risks are being taken on the fiction side of television, according to ABC News correspondent Robert Krulwich. Social issues are played out in dramas and situation comedies, not on the newscasts which are signposted, managed, reductive, and defensive. Somehow, he observes, people in the news divisions seem to have lost their ambition.
The audience itself is changing, Mr. Krulwich reminds us. An entire segment of the educated public simply does not include the network news among their news sources. They've lost the network news habit. Even when the news organizations do excellent programs, it takes a long time for this huge numbers of people to even know the shows are there because they're not.
Yes, these changes have the networks and their owners worried. But they have a big problem -- they're making twice as much money for half the audience they drew 10 years ago. In the early years, Madison Avenue paid so much for Lucy and Jackie Gleason that there was enough money left over to fund entire news operations. Now news itself is required to be profitable. And newspeople, stars. It's a far cry, says Mr. Krulwich, from the days of Edward R. Murrow or even Walter Cronkite, names a growing number of people simply do not recognize.
But there are hints of change in the other direction, too. Mr. Krulwich -- a notable exception to look-alike reporters -- cites a series he did with Ted Koppel in 1999. They called it "Brave New World.š (Why could they deviate from the norm? No risk -- it was summer and they were airing opposite a block-buster of a drama.) Mr. Koppel and Mr. Krulwich argued a lot doing these shows, he says. And it was wonderful.
How does Mr. Krulwich see his job? He attempts to go into a nook of the world that is either incomprehensible or seems objectionable. Physics. Economics. Hip-Hop music. He sees if he can create something that connects that "otherš back to us all. A sort of weaving, he says.
When we have instant images from all kinds of new technologies and both images and sounds are increasingly manufacturable, what's a news-packaging company (a.k.a. network) to do?  Choose some of the things that everyone's already seen in the course of the day, dwell on them and figure out their semiotics -- the beginnings, ends and reasons for what we've already seen, he predicts.
Is Robert Krulwich one of a kind? Not for long. He says he's training lots of 28 year olds to move away from today's stereotypes. To be storytellers. Mr. Krulwich sees them as the vanguard of what he foresees:  a vibrant, multi-sourced world in which people who are very good at their jobs make it possible for us to help ourselves to lots of information. Then, he thinks we can figure out new places to solve our other problem -- Where do we go together?
[This Program was recorded September 15, 2000 in Oberlin Ohio, US.]