Rock 'N' Roll is the global language, Richie Havens and Janis Ian are convinced. Whether or not the world began with Rock 'N' Roll, as Richie believes, Richie and Janis were there when it all began. Remarkably -- they're still at it. When others had their moment of glory, then faded into nostalgia, these two never quit. And they continue to work together whenever they can, as they did when Judy Collins invited them to join her "Wildflower Festival" tour.

Janis and Richie embody a powerful kind of optimism. In a nutshell? Freedom. And it?s not just because Richie's musical immortality was cemented when he opened Woodstock with that anthem of the '60s. The freedom they talk about has two absolute requirements -- responsibility and work. Janis is impatient with "I want it, so give it to me." She prefers to start from, "What do I have to do to get it?" Richie's carried freedom's banner around the world for almost 40 years and onto virtually every college campus in America at least 4 times over. He thinks of himself as driven by his early recognition that he was connected to the planet, not Brooklyn. Likewise, Janis at 50 is as vital as when she was the 15 year old wonder in 1966, bursting onto the scene with "Society's Child," then "17."

Richie and Janis are convinced the songs they wrote and sang -- and others? songs, particularly those of Bob Dylan -- helped start a revolution. Richie describes it as "The Becoming of America." He?s confident that that revolution became evolution and is now "The Becoming of the World." Richie puts enormous faith in young people born in and after the 1980s. He trusts them because they, too, know we all belong to the planet.

While both Richie and Janis continue to draw on their roots in the '60s, it's the future that calls to them. "Play like a girl!" Janis commands in her newest CD. "Speak up for the environment!" Richie demands as he tours the world.



Richie Havens
... musician. Woodstock's voice of "Freedom," Richie Havens is a timeless and unequivocal voice in popular music around the world. Deeply rooted in the folk/blues/pop traditions, he has been part of the world of music from the Greenwich Village folk scene in the early 1960s to the Presidential Inauguration in 1993. Known for stirring interpretations of artists as varied as Bob Dylan and the Beatles, Kris Kristofferson, Sting, and Richie's own wealth of socio-political-personal composition, he continues to tour the world.

3:48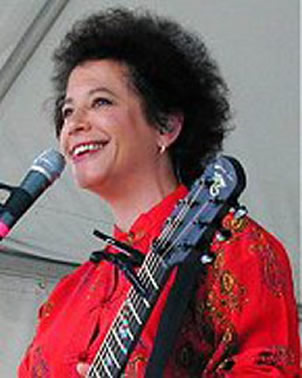 Janis Ian
... musician. Internationally celebrated as singer-songwriter, Janis Ian was a 15 year old girl wonder, bursting onto the music scene in 1966 with "Society's Child," then "17". Seventeen albums and an impressive collection of Grammy Awards and nominations later, Janis? singular songs continue to attract the world?s great artists to her powerful lyrics and melodies. Her following is world-wide. In addition to a heavy touring schedule and charity projects, she continues writing songs and a monthly column for "Performing Songwriter Magazine."
Richie counts himself lucky to be in the first generation (following World War Two) where everything was absolutely Brand New. It's a vision for which he thinks people around the world hunger -- a place where everything's possible and you can be what you want to be. At the same time, Janis is savoring the "Zen" quality of being old enough to strip down to what's essential -- one's individual authenticity.

America, they both sing out, is obliged to make a difference for everyone else in the world. To do so, Richie and Janis call us all, wherever we are, both to lead and to follow. They expect changes will be as unexpected and dramatic as the revolution of which both were a part. But just consider the power that's been harnessed. Rock'N'Roll lured one whole generation to rebel against the suffocating uniform of the moment, to create community in the parched numbness of the '50s. And now it's everywhere.
[This Program was recorded August 1, 2001, in Atlanta, Georgia, US.]