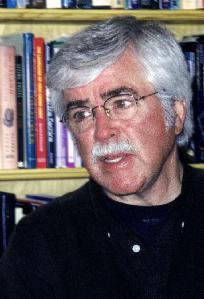 William Least Heat-Moon
. . . writer. Mr. Least Heat-Moon's mix of adventure, reportage, philosophy and humor have become a standard by which travel books are now judged. The best-selling author of the classics, Blue Highways and PrairyErth, he has supplemented those experiences with stories and insights from his journey across America by boat, memorably recorded in River-Horse. With a PhD in English and an undergraduate degree in journalism, Mr. Least Heat-Moon lives near the Missouri River.
William Least Heat-Moon's requires a great deal more of trips than most of the rest of us do. He is intent on turning those trips into Journeys. That requires writing a book in which he can share his trip with the rest of us. It is in the telling that Mr. Heat-Moon's Journey emerges.
Both the physical and the literary adventures are arduous. It took Mr. Heat-Moon four months to cross America by boat in a single season, adventure enough for most of us. (He started in New Jersey and the New York City Harbor, ended just outside Astoria, Washington.) But the sometimes harrowing trip was in some ways the easy part. The Journey that turned out to be River-Horse took four years and demanded that Mr. Heat-Moon reinvent his sense of self. Mr. Heat-Moon's classics Blue Highways and PrairyErth worked in much the same way - four years writing the one, eight years the other.
Adventures have a way of finding Mr. Heat-Moon, in no small measure because he goes looking for them. A journalist by trade, Mr. Heat-Moon has become a traveler-writer like no other. Having dramatically expanded our sense of place in both Blue Highways and PrairyErth, he looked for and found an adventure that would focus readers on the state of America's water and waterways.
But Mr. Heat-Moon didn't want to write a book about water that only environmentalists would read. He knows they know the issues. Instead, he reaches out to us all to share his adventure, to weigh his experience and to decide for ourselves whether it's important to have clean water. River-Horse not only covers thousands of watery miles, it also is a time machine. Mr. Heat-Moon shows us a panorama of eras during which people have traveled America's rivers, from indigenous peoples to European settlers to the Corps of Engineers. Mr. Heat-Moon and "Pilotus" (the one gender-neutral character Mr. Heat-Moon created from the seven co-pilots who joined him) experienced much of what our forebearers did. They moved through space and time, feeling the rivers in their eons as bodies of water giving way to other eras. Around any given bend, contemporary civilization could slip away and they'd be paddling in another century, confident they were seeing what people 800 years ago saw.
As William Least Heat-Moon had hoped, there is no greater adventure than trying to take a boat from the Atlantic to the Pacific, staying in-country the whole way. Happily, on both his trip and on his Journey, Mr. Heat-Moon allows each of us also to become "Pilotus." Now we must decide for ourselves if clean water matters. And act on that decision.
[This Program was recorded April 24, 2001 in Atlanta, Georgia, US.]