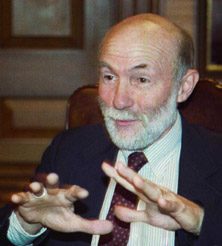 Harvard Ayers
. . . a leader in the Southern Appalachian Mountain Initiative, an eight state public-private effort to solve the regionís air pollution problems. He directs the Northern Hardwood Damage Survey and founded Appalachian Voices, a nonprofit environmental organization dedicated to the preservation of the native forest ecosystems. He is co-editor of An Appalachian Tragedy: Air Pollution and Tree Death, a Sierra Club Book. Dr. Ayers is Professor of Anthropology and Sustainable Development at Appalachian State University in Boone, North Carolina.

3:32 secs
Brambles are good for berries and bears but trees are good for people. And trees are dying from Maine to Georgia. Why? Itís complicated, but the short course is that air pollution is weakening the treesí ability to cope with a whole range of threats they once could resist -- from disease and bugs to swings in climate conditions.

But donít tune out. Solutions are as real as the threats to our own well-being and to the well-being of all the other forms of life which are being adversely affected. Individual people, not technology, are where solutions begin, according to environmental activists including Harvard Ayers.

Yes, acid rain and ozone are damaging the trees themselves, poisoning the soil in which trees struggle to grow and the water which then kills streams and turns lakes into deathzones all along the Appalachian chain. But before we can fix the problem, we must believe there IS a problem. We must see whatís there to be seen, look instead of turning a blind eye. Then we must decide to act. And act on that decision. THEN itís time for technology. Individuals, not engineering, are the starting point.

The technology? Filters are an excellent place to start. Filterthe smokestacks of power generating plants -- which Dr. Ayers says are the countries leading air polluters -- and other industries that use fossil fuel. And filter our own cars -- the other big cause of air pollution. We donít have to live in California to buy a car that meets its air quality standards. The costs? Theyíre real but surprisingly modest for the dramatic improvement we would see in air quality from Georgia to Virginia. That would be good, since the ozone in the air along the tops of the Great Smoky Mountain is now about the same as in Los Angeles.

Will we see the tragedy of air pollution for what it is and act on it? Dr. Ayers and his colleagues have collected the pictures if we choose to see, scientific evidence if we choose to listen. Other countries have demonstrated that there are more efficient ways to generate both the energy we use and the energy needed to make the things we want. And we do waste a lot. So the opportunities to create solutions abound. And there is still some time. The forests, Dr. Ayers assure us, are not ďchangingĒ as some in the utility industry argue. And the deer are not killing the forests. We are. Will we act on behalf of our trees or trade them in for Briarworld?