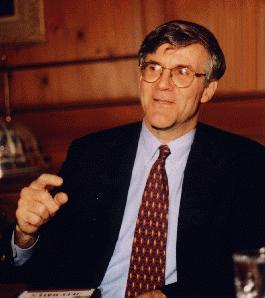 Jeff Gates
. . . is a lawyer, investment banker, political advisor and consultant to governments, corporations and union leaders worldwide. As Counsel to the United States Senate Committee on Finance during the 1980s, Gates spearheaded federal legislation for employee stock ownership plans (ESOPs). He's worked in 26 countries worldwide, with ideas for connecting workers to their economic systems in capitalist systems as diverse as Japan, Germany, Zimbabwe and Korea, as well as the United States. He is author of The Ownership Solution.

3:20 secs
If you want a robust, politically stable capitalist system, make sure you have a lot of capitalists. That's not as easy as it sounds, according to economic thinker Jeff Gates, because capitalism is extraordinarily good at creating more capital (the rich get richer) but lousy at creating capitalists. It does a great job ferreting out financial returns but an abysmal one creating customers with a stake in the system, able to buy the goods produced. With capitalism now the world's model and a growing disparity between the world's rich and poor, Gates fears capitalism's disconnect is its Achilles tendon.
Profound economic inequity is a global challenge, according to Gates, who has worked as a financial advisor to governments, corporations and unions in 26 countries. He sees financial colonies replacing political ones, worldwide, starting at home. Assets held by America's richest 1% dwarf those held by the bottom 90%; 37 Mexican families own 40% of Mexico, 13 families control Venezuela, 6 in El Salvador, 300 in Pakistan. And in Russia, following American advice, six clans are consolidating enormous economic and political power. Meanwhile, three billion people now live on less than $2 a day and at the rate we're going, that number will almost double in 30 years. Jeff Gates puts faces to these numbers and asks, "Where is our humanity?š
Why not let the ownership mechanisms that works so well for rich people work for the growing numbers of have-nots? Give ordinary people a stake in capitalism. Create ownership solutions. Insist regular people share in both private property's financial risks and financial gains. Find ways to turn company workers into company owners. Create mechanisms by which employees can take stock in companies, not cash out of them -- companies actually perform better and bottom line performance is enhanced when workers are connected to their companies through ownership.
It's time we acknowledge there is no "invisible handš of the market, only financial forces over which people have the right to exercise influence. It won't be easy. Capital markets roll over policy makers every day, so it's going to take collaboration between the private and the public sector to strengthen capitalism by creating capitalists.
Gates insists we have to get into the heart of our system -- a financing system -- and engineer capitalism for inclusion. Start by asking what we want from our economy - a job ethic or an ownership ethic? Then raise our hands, tell our politicians, our fellow workers and the people we work for and with, "It doesn't work for me to be left out here with only my labor to generate income. If we're going to have a robust capitalist system, we're going to have to find a way to make me a capitalist. And quit pretending I can buy my way into the system simply from the earnings of my labor. That's never worked.š
The beauty of our political economy, Gates reminds us, is that it does respond. But it won't respond if we don't ask. The world's political stability hangs in the balance.