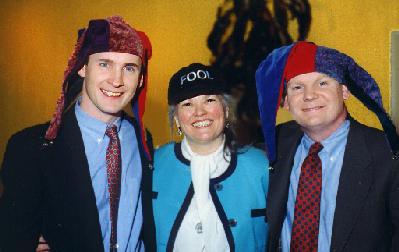 Paula Joins in the Foolishness with Tom and David Gardner
The Brothers Gardner - Tom (l) and David (r) - were English majors who took The Motley Fool, their online financial forum onto the Internet in 1994. Mixing fun, "Foolishness" and finances, David and Tom are creating a community of people sharing information which promises to revolutionize "business as usual" in the financial industry. "Fool Global Headquarters" is in Alexandria, Virginia.

3:30 secs
There's a revolution afoot within America's financial industry, triggered by the Internet. Two leaders of the insurrection are known to millions as The Motley Fools. They also answer to David and Tom Gardner.
The Brothers Gardner went on-line in 1994 at www.fool.com (AOL Keyword: Fool), said to be the world's most popular online financial site. They get 1.5 million hits per month and have 700,000 subscribers to their on-line newsletter. Their books The Motley Fool Investment Guide, You Have More Than You Think and The Motley Fool Investment Workbook (Simon & Schuster) are firmly planted at the top of financial best seller lists. And their newspaper column is syndicated across America.
In their Foolish way, the Gardners are telling the financial industry's secrets, defying the conventional wisdom of the financial world, much of which they believe is bad. The Fools are helping open up the closed doors behind which financial conversations were always held. Until now.
What's wrong with the financial industry as it is? Just about everything, according to these Foolish Fellows. For starters, it rewards activity, not performance. Then there is the traditional model -- you pay a lot for financial information which is tightly held by Wall Street or the car dealership or the real estate agent or the guy selling appliances. Not any more. For starters, all Motley Fool on-line sites are free. This alone makes Tom and David jingle their foolish caps with delight.