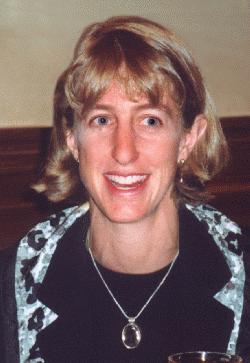 Kim Fisher
. . .CEO and Co-Founder, AudioBasket.com, providing personalized audio news-on-demand. Prior to AudioBasket.com, Ms. Fisher was Director of Strategic Business for Synacom Technology, Inc., and Senior Marketing Manager in Motorola's International Joint Venture division. With an MBA from UC-Berkeley's Haas School of Business, she was co-founder of one of Lithuania's first web page design companies and has two patents pending for innovations in communications software.

4:01 secs
Information overwhelms us.  People are increasingly eager to control the source and subject of the things to which we do choose to listen. It's an ideal niche for an aggressive young Internet company. It is also the future of radio, according to Kim Fisher, CEO and co-founder of AudioBasket.com -- news radio, customized to an individual's taste and interests, drawn from prestigious news sources.
AudioBasket.com could not have existed without the power of the Internet, declares Ms. Fisher.  But the Internet is extremely time-sensitive and technology-dependent, so trailblazers are especially challenged. How does one do market research for an entirely new product and still get to market?  It's tough, says Ms. Fisher, but AudioBasket.com believes in market research (most dotcoms skip it.) And leaping obstacles is the entrepreneur's hallmark, she reminds us. The test, says this 30-something CEO, is to stay focused while moving with and learning from the market. When consumers did not rush to MP3 players as expected, AudioBasket.com found alternative delivery systems -- Web audio on computers, cell phones, wireless, in addition to MP3.
Instead of competing with clutter or duplicating millions spent by others marketing their websites, AudioBasket.com forms partnerships. Prestigious news and information websites feature AudioBasket.com links -- sites including the BBC, "Financial Timesš and CNNRadio. Customers find AudioBasket.com so AudioBasket.com doesn't have to find customers. Since there's no need to leave the partner's page while one listens, everybody's happy -- customer, partner, AudioBasket.com.
Kiss five-year business plans goodbye.  Internet businesses are works in progress. Constantly. Each decision requires a separate analysis. And everyone's watching, customers and competition alike. AudioBasket.com's formal internal strategy meetings are quarterly, and critical decisions are moment to moment. So "teamworkš is not rhetorical. Skills, experience, enthusiasm and energy are required, whether the cubicles at AudioBasket.com's burgeoning San Francisco facility sport pictures of grandkids or newly minted college diplomas.
Kim Fisher probably is not what most people think when they hear "Internet entrepreneur.š No "exit strategyš here -- she's in it for the long haul (though her investors no doubt have a "liquidity eventš in mind.) Ms. Fisher is unconventional in őNetland for other reasons, too: she believes in making a profit; in considering the interests of current investors when raising capital; in business cases and cost-effectiveness and, yes, in market research.
Is there a secret? Yes, Ms. Fisher assures us.  Networks. They are, she believes, at the center of creating good companies and good products. Information and skills from within the company must build on a much wider network of people and organizations. For AudioBasket.com, it was business partners, media partners, lawyers, accountants, business incubators, and investors.  So never, ever, ever be caught without your business card!