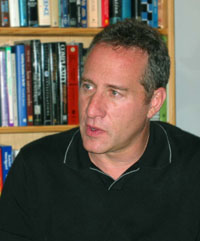 Joseph Finder
... best-selling novelist, espionage expert. Mr. Finder's best-sellers Paranoia and Company Man are set in corporate America. His controversial 1983 exposé of Dr. Armond Hammer was confirmed once the Soviet Union collapsed. A fiction writers since the late 1980s, Mr. Finder's spy thrillers repeatedly anticipated world events and High Crimes was made into a major motion picture starring Ashley Judd and Morgan Freeman. Mr. Finder continues to write about espionage and international affairs for "The New York Times," "The Washington Post" and "The New Republic."

2:24 secs
Business culture defines America, and the rest of the world has copied us, ad infinitum, says best-selling novelist Joseph Finder. He has put his skills to work where 80% of Americans work -- in or for some corporation. Like it or not, Mr. Finder says, Americans' involvement in business has shaped the way we look at the world and the way the world looks at us.

Mr. Finder made his second big splash beginning in the late 1980s, as his spy novels consistently anticipated real world events. His first one? Responses to his 1983 non-fiction book _Red Carpet_. In it, he made a strong case that Dr. Armond Hammer, CEO and founder of Occidental Petroleum, was a fraud. (Facts that surfaced when the Soviet Union fell validated Mr. Finder's assertions.)

Using what Mr. Finder had learned about intelligence gathering at Yale, Harvard, in life and with his many contacts in the world of espionage, four novels later he found it wasn't hard for him to cross the bridge from spy novels to corporate thrillers. Lots of corporate security people have backgrounds at the FBI or CIA and it came as no surprise when a friend at the C.I.A. explained how corporate espionage is modeled on international espionage -- including what the CIA, KGB and Mossad (Israeli intelligence) were doing. Add to that mix, Mr. Finder says, it is public knowledge that several generations of some of America's most prominent families have been directly involved, all at pretty much high levels, in the cross-overs between the security organizations and big business, particularly in the defense industry.

So Mr. Finder went to work exploring the corporate terrain which, to his surprise, is virtually untapped by novelists. Why? He thinks it's because novelists know neither the lay of the land nor the language spoken there. Neither did he, so he called up some of the nation's leading Chief Executive Officers (CEOs), got them to tell him what it's really like at the top. He prevailed on friends who are Chief Financial Officers (CFOs) to tell him what they do not do, but could. And finally, Mr. Finder hung out on factory floors and in company towns to fill in the gaps between. Then he sat down to write.

Yes, one learns a great deal about corporations reading Mr. Finder's corporate thrillers. But he doesn't think of them as "business books," because he's not writing about business processes. He writes about people. No, he is neither anti-corporate nor pro-corporate, he says. He's pro-drama, pro-entertainment and always looking for the story. To tell that story, he says, means he must locate the issues and controversies inside the workplace or office politics -- whatever it is that allows him to get at what the real story is. With no ax to grind and no polemic to put forth, he says he's free to do what he's there to do -- make the pages turn.

[This Program was recorded April 28, 2005, in Atlanta, Georgia, US.]