Sharing food, according to Linda Eckhardt, is at the very heart of our civilization. "Car food,"-- drive through windows where eating is simply to stuff oneself, to refuel your engine -- is the very antithesis of civilization. And it's very tempting to Americans with overcrowded schedules, limited time and stressed out lives. So Linda has expanded her repertoire from cookbooks to entertaining. What's the catch? Even when people want to share food -- we call it "entertaining" -- many of us no longer know how! Linda and her daughter, Katherine West DeFoyd, to the rescue.
Linda has written or co-authored more than a dozen cookbooks. She's a contributing editor to Cooking Light magazine and appears on radio and television. She conducts cooking schools. Now she turns her attention and ours to entertaining. The point, Linda maintains, is to have a good time with friends and, believe it or not, family. Share. ĘBe nurtured by and in one's community. Hence, entertaining as the heart of "civilization."
Here's another novel concept. Entertaining should be fun. It can be a joy, not a performance. It should reflect who you are and what you like. Rule 1: take the bores off your list. Have guests participate instead of being observers. They'll have a better time if they have contributed and so will you. Entertain with someone -- share the work, share the fun. Decorate with food and candles and let the event itself take the spotlight. Keep it simple. Linda offers all kinds of suggestions from how to use prepared items in recipes and decorate with from the market to picking wines and cheeses, from simple but elegant courses to how to set the table.
She encourages us to celebrate the "evergreen" holidays -- Valentine's Day to New Year's Day and all the old standards in between -- then invent our own: maybe a Super Bowl Party, an Oscar Party or a Party For No Reason. The point is to get together. Linda goes so far as to include the children! How else are they to learn, she asks?
Linda's urge to entertain and to help us do so too is part of a host of changes in America's changing demographics, our place in the world, our society and culture, and increasingly globalized economies. She gives us all permission to celebrate and offers us the skills with which to do so. So let's have a party!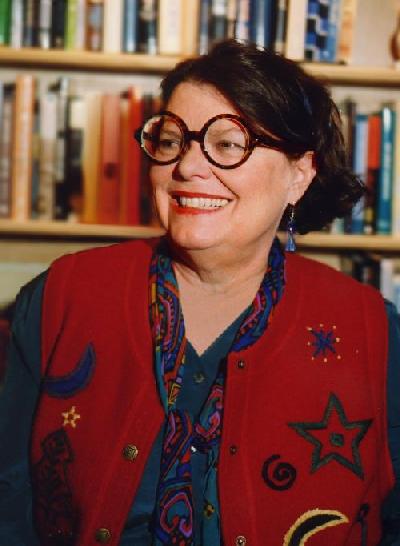 Linda Eckhardt
. . . is author or co-author of more than a dozen cookbooks. She and her daughter, Katherine West Defoyd, collaborated on Entertaining 101, a guide to entertaining with style and grace. Linda is a contributing editor to Cooking Light and appears regularly on radio, television and in cooking schools. She and her husband live in Ashland, Oregon.

3:10 secs