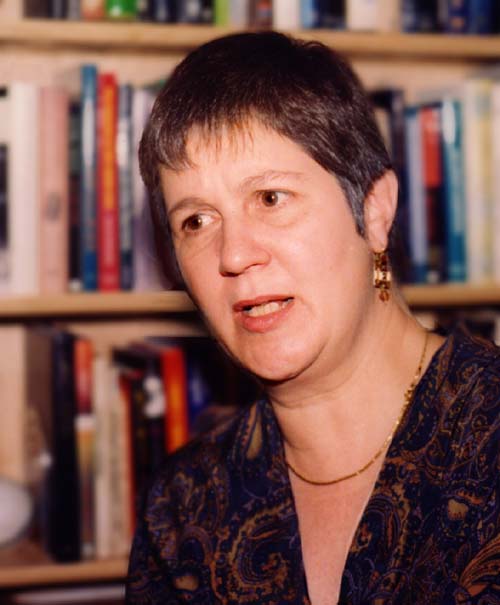 Nancy S. Dye
. . . is President of Oberlin College, the 13th person and the first woman to hold that position since the College's founding in 1833. A graduate of Vassar College, Dye earned a Ph.D. in social history from the University of Wisconsin in Madison. She is a highly regarded teacher as well as one of the leading voices in American higher education. She and her family make their home in Oberlin, Ohio.

3 min: 39 secs
American culture's challenge is higher education's challenge, according to Nancy Dye. How do we create community with diversity? Dye's confident both today's young people and tomorrow's historians will be asking what kind of job higher education did at the end of the 20th century, breaking down fragmentation in the United States, enhancing our diversity.
Nancy Dye is the 13th President of Oberlin College, an educator and scholar. She earned a PhD in social history from the University of Wisconsin at Madison. In addition to having held a variety of administrative positions in colleges and universities, she is well loved as a teacher. No "ivory tower" for this leader. She is profoundly committed to the connection between society and community set forth in Oberlin's motto "Learning and Labor."
Society's issues are being played out in colleges and universities across the nation today. That is very, very healthy, Dye believes. In fact, in a democracy, it's vital. When we think about what is useful in an education, perhaps we should begin the list with the our ability to embrace conflict, to disagree while staying engaged with each other. Our young need the experience of disagreeing strongly with others in a civil manner, staying open to the ideas of others, not taking their marbles and going home. President Dye sees a liberal arts education as particularly well-suited to providing that experience.
The ambiguities of The Academy are everyone's ambiguities, the challenges facing the world are the same ones Dye faces every day as president of the nation's first co-educational college, which admitted African-Americans two years after it was founded in 1833. We must all stay engaged in sometimes uncomfortable struggles. To question and critique is the job of intellectual pursuit and everyone's challenge in a rapidly changing world.  Our young people are already well ahead of the curve dealing with change, Dye believes. Education's challenge is to combine the tools they will need 40 years from now, with the traditions and knowledge amassed through the ages.
The similarities of today and 100 years ago might well give us pause, says this historian/educator. Progress is not inevitable. Making things better is an ongoing struggle, Dye reminds us, citing the Progressive Era (her field of study) yielding to the rest of the 20th century. And, by the way, the qualities of mind that are associated with "political correctness" are the opposite of Dye's definition of the "liberal" in "liberal arts" -- to be free and unfettered.