If your doctor wrote "pray" on the prescription pad, wouldn't you think he or she had given up on you? "Not So!" says Larry Dossey, M.D.  He insists prayer is very powerful medicine, part of the healing arts on which physicians should draw. And, Dr. Dossey says, there's growing evidence from laboratories, clinics and hospitals that this is good science as well as good medicine.
This is not a religious argument. Dr. Dossey's belief is based in data he could not escape as a practicing physician, as well as studies being conducted by scientists he respects. Dr. Dossey acknowledges garden variety physical reasons why people who have a sense of spiritual meaning and purpose in life, who feel "connected," are healthier. In the last five years, that's become so accepted that one-quarter of America's medical schools offer courses on the impact of spiritual matters on human's physical health.
When Dr. Dossey starts talking about prayer as empathetic intentionality at a distance, however, he steps out onto the leading edge of medical practice. He cites a growing body of evidence that shows prayer profoundly affecting the course of disease and recovery. Dr. Dossey goes farther. He believes prayer is responsible for non-local manifestations of consciousness anywhere in the world.  
As with any powerful medicine, there can be negative side effects. Prayer can also be manipulative, irresponsible, controlling, even harmful. It's a choice people make.
Where does prayer get its power? Larry Dossey believes it's the power of empathy, which also goes by the names compassion or love or concern for others. It works, he believes, because we are all connected, by a universal consciousness as fundamental to the universe as gravity. Prayer taps us in, is our avenue to the Absolute.
Dr. Dossey urges people to liberate themselves from the temptation to micro-manage the universe, suggesting we simply be open to a higher wisdom. He recommends prayers of gratitude and openness, with no goal in mind, including, "May the best thing happen," or "Thy will be done." This attitude relieves us of the burden to "play God."
Dossey sees himself first and foremost as a healer, eager to bridge the gulf between science and spirit as well as that between mind and body. He's convinced that when we honor the complexity of prayer and cease to trivialize it, we begin to heal our lives -- at all levels.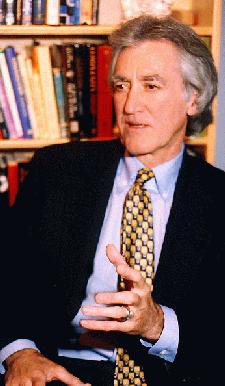 Larry Dossey
Larry Dossey, M.D., is the former Chief of Staff of Humana Medical City, Dallas, Texas.  He was the co-chairman of the Panel on Mind/Body Interventions in the Office of Alternative Medicine of the National Institutes of Health. He's currently executive editor of the peer-reviewed journal Alternative Therapies. His book Healing Words was a New York Times Bestseller. Be Careful What You Pray For...You Just Might Get It, is now available from HarperSanFrancisco [http://www.harpercollins.com]. Dr. Dossey lives in New Mexico.