Film critic and writer David Denby fantasized about going back to school but this time, "getting it right." What separates him from countless others with the same dream is that he DID it. Denby returned to Columbia University where, thirty years before, he'd taken the "core curriculum" literature and political philosophy courses. At 48, David Denby entered the classroom with freshman students, did again what he'd done at 18. What he discovered on his adventure is that some things are even better the second time around.
Denby had two more items on his agenda. He wanted to make sense the "culture wars" being waged inside and out of today's universities, arguments over what our young people should be reading. And then there was his soul -- he feared his very "self" was drowning in the media bath he helps create. From Plato to Boccaccio, Virgil to Virginia Woolf, Odysseus to King Lear, Denby was in hot pursuit of answers to The Big Questions (which , he learned, Montaigne had framed nicely centuries ago).
Denby's love of movies survived the experience, continues unabated. But movies, he came to understand, do not shape self or form character. What movies do brilliantly is create sensations, elevate excitement. In fact, Denby privately believes movies with their fast cuts and spacial dislocation may just be driving us crazy. All the more reason to reconnect with our cultural moorings, learn again to be A Reader, participate in the creative process of reinventing oneself. Movies and the mass media may affect your style, but they do not alter your conduct. Book do that. Great books do it best.
Reading -- the physical act of embracing big ideas, struggling to come to terms with them, developing the intellectual muscles to take on the Big Issues and come out the other side with one's own answers, however tentative -- Denby rediscovered, is the ultimate... entertainment!

As to the "culture wars," Denby is now clear that most of the arguments against reading great literature, whatever the source, are "ideological nonsense." He observed all students, not just minorities or women, dispossessed of the Western tradition by information glut. And from that sorry discovery, Denby makes a dramatic return. He comes again to celebrate education! Education ultimately must deepen pleasure, he maintains. But learning to love the great classics is not a natural act. It must be learned. And it needs a teacher -- whether someone in a classroom or reading in the company of provocative friends.

As to Denby's soul? When he restored himself to the status of Reader, reconnected to the foundations of our Western culture, Denby also saved his media drenched soul from drowning in today's popular culture. Turns out, Life's Big Questions are as central as they've always been. And the answers to those questions are more critically important than ever.

[This Program was recorded October 21, 1997, in New York City, NY, US.]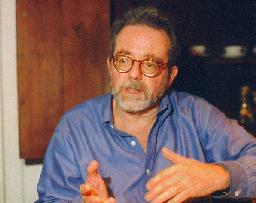 David Denby
David Denby's book Great Books: My Adventures with Homer, Rousseau, Woolf, and Other Indestructible Writers of the Western World, published by Simon & Schuster in hard and soft cover, is enriched by having been film critic of New York magazine since 1978 and a contributing editor of The New Yorker. His reviews and essays have been published widely. He lives in Manhattan.

3:01 secs