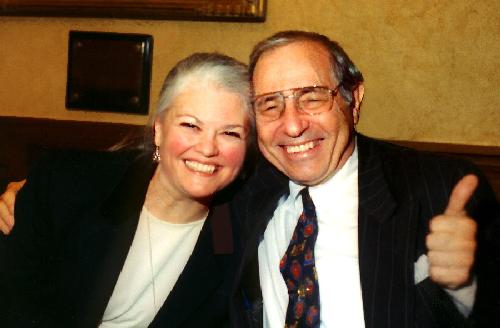 J Morton Davis
. . . is Chairman of the Board and sole owner of D.H. Blair Investment Banking Corp, a Wall Street investment banking firm offering Initial Public Offerings (IPOs) for emerging growth companies working in biotechnology, medicine and communications. He has four daughters and 23 grandchildren and lives with his wife Rozi on Long Island, New York. His book From Hard Knocks to Hot Stocks (William Morrow &╩Company (www.williammorrow.com)) combines his remarkable autobiography with experience-based investment advise.

3:30 secs
Every day, stocks tell you how to get rich. Go look at the short list of the day's "new highs," says J. Morton Davis, Wall Street investment banker and venture capitalist. Buy a little. ╩When that stock goes higher, buy some more. Davis made a fortune with his unconventional wisdom and is eager to share his secrets, so eager in fact, that he combined a self-help investment guide with his autobiography.
Morty Davis is a venture capitalist who specializes in funding emerging growth companies, targeting biotechnology, medicine and communications. He is also a former high school drop-out from Brooklyn who got an MBA from Harvard and made a fortune for himself and his investors on Wall Street. Now he wants to show other people how to make money investing while making the world a better place.
The future, according to Davis, belongs to the growth companies, the kinds of companies he funds. He thinks old companies (the so-called "blue chips") are like old people -- they pack on a lot of fat, become inefficient and suffer hardening of the bureaucratic arteries. Go instead for the hot young companies who will grow into tomorrow's big winners. And, according to Morty, all you need is one big winner to make you very rich.
Stocks, he believes, tell their own stories. He used to study companies until he know more about them than the CEO did. Now he jumps on a trend. Start small, cautions Davis. Buy a few stocks on the short list of new highs. Then as that stock goes up, buy more. If it slips more than 15%, sell it.