Chaos and Order
What do men fight over? Land and resources, says internationally admired historical novelist Bernard Cornwell. And women. That's the first layer of Mr. Cornwell's latest series, focused on King Alfred the Great. It starts with The Last Kingdom, in which he tells rousing stories of what he calls men behaving badly. He will take us through three generations. Along the way, he'll revitalize Alfred's daughter who's been lost to history even though she was a heroine and led armies against the Danes.
There's a second universal theme Mr. Cornwell has set in motion in this new series. Chaos versus order. Marauding lawless warrior Danes versus pious Saxon king Alfred the law-giver and his conscript farmer-soldiers. The Cavaliers versus the Puritans. Accountants versus NASCAR drivers. It's an ago-old battle, Mr. Cornwell believes. With some apparent sense of resignation, perhaps regret, Mr. Cornwell concludes that in the end, it is the pious bores who win. Always.

But not before a terrific story can be told! That's what Mr. Cornwell says his first duty is as an historical novelist -- to tell a good story. Then he can honor his other commitment -- to be true to the history. At the end of his novels, Mr. Cornwell conscientiously offers readers an accounting of where the latter has had to give way to the former.

The third strand in Mr. Cornwell's elegant braid is that he loves to write, finds in the process the same joy of discovery that he seeks to share with his reader. You'll hear no whining from this writer. When he fell in love with an American, he took more than a leap of the heart. He left his job in Belfast and his promising career as a BBC television producer, followed her to America where a Green Card was not to be had.
So Bernard Cornwell turned to what he'd always want to do. He started writing in earnest, The result was the first "Richard Sharpe" novel, now a series that has it's own life and following. No, Mr. Cornwell says, he is not yet through with Sharpe, stay tuned.

And finally, a reverence for landscape is embedded in mankind, Mr. Cornwell is certain. Clearly, it matters to Bernard Cornwell. He now lives in Cape Cod but the British Isles have a special place for him, having grown up in England, remnants of the Roman Empire and ghostly Danish lore as close as the corner church yard.

Bernard Cornwell's choice for the tap stone of English history is Stonehenge. Why not the Arthur myth to which others give primacy? Mr. Cornwell's own luminous Arthurian trilogy restores Arthur's Celtic soul and Welsh mythology. But, he concludes, Arthur now belongs neither to the Celts nor the English. Arthur belongs to the ages.
.
[This Program was recorded February 10, 2005 in Atlanta, Georgia, U.S.]

0:52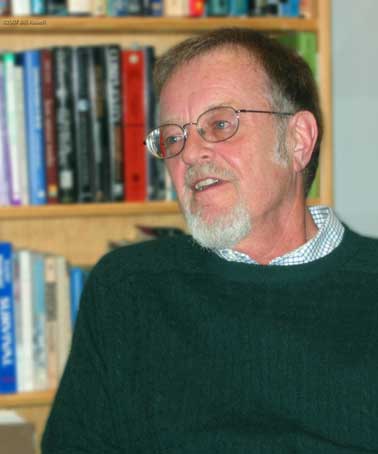 Bernard Cornwell
... historical fiction writer. Internationally acclaimed for his "Richard Sharpe" series, the Grail Quest series, the Nathaniel Starbuck Chronicles, the Warlord Trilogy and many other novels including Redcoat, Stonehenge, and Gallows Thief, Mr. Cornwell has begun a new series. In The Last Kingdom, he begins the adventures of Saxon/English King Alfred the Great, to whose time Mr. Cornwell trace his own Northumbrian family roots. He and his wife live on Cape Cod, MA.

3:21