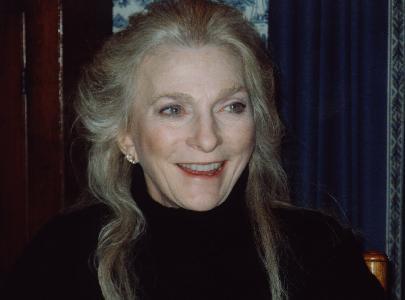 Judy Collins
. . .singer/songwriter. Judy Collins is known around the world. Her lyrics helped define America's social movements of the 1960s and her career has spanned the intervening decades. Ms. Collins has released more than 30 albums, has had numerous Top Ten hits, Grammy nominations and gold and platinum selling albums. In 2000, Ms. Collins created her own record label, Wildflower Records. The flagship release, "Judy Collins Live At Wolf Trap,š celebrated Ms. Collins' 21st performance at the Wolf Trap Foundation for the Performing Arts.

3:19 secs
[This Program was recorded November 17, 2000 in Atlanta, Georgia, US.]
Who knows where the time goes? The question is more than just the title of one of singer/songwriter Judy Collins' signature pieces. It speaks to the essence of music for her. Since we don't have a way to harness time except with relationships and experiences we value, Judy Collins believes listening to music is one of the experiences which renders the timeless. That timelessness, she believes, is the source of music's magic.
Music is nothing short of amazing, says this songmistress whose voice is also virtually synonymous with"Amazing Graceš and dozens of other sings which span more than four decades. In addition to continuing to sing for sold-out concerts, she generates blockbuster ratings on fundraising specials for PBS. A new venue for her is the Internet, where interactions with fans on her website remind Ms. Collins of the coffeehouses of her youth, with the ability to sell records on the side.
Music is central to who and what Judy Collins is. Her songs and singing have both helped shape and reflect a world of private and public sorrows and joys. Judy Collins is a classically trained pianist-turned-singer/writer whose music has been integral to America's mass movements for peace and justice. If there is a theme to her music, it is the enigma of life's changelessness which is forever changing; the timelessness of songs, prose and ideals that sustain us in our rapidly changing lives; life's loss, pain and the possibility of redemption.
Music has been Judy Collins' survival mechanism as she has confronted her own life's losses. Inevitably, she reminds us, we lose everything. She's confident that that's what we're here for. But in the surrender, she believes, is the win, in the loss the gain. The depth of our experience, she believes, is in direct proportion to how much we've been able to accept and be rendered available by the losses in our life.
That perspective is part of what Ms. Collins offers her admirers, who now span generations. Ms. Collins followed her father's footsteps into the music world and still feels his influence, as recently as when she started her own record label, Wildflower Records. Running a business, she knows, requires commitment and courage. Then, she believes, you just keep moving. Keep exploring.
Given her impact on millions over a lifetime, does Ms. Collins feel a sense of responsibility? Not really. More a sense of gratitude. And pleasure. In her life, she says, she has done what she loves -- the greatest gift one can have, whatever the arena -- and that still seems somehow unlikely. (Sandy Denny, who wrote"Who Knows Where the Time Goes,š was less fortunate.)
Judy Collins keeps growing, challenging herself, writing books and songs, performing. She does so in league with her admirers. The blessing, she say, is -- having had the pleasure of doing her work -- people read her books, listen to her music, come to her concerts. And so, artist and audience together continue their journeys, mindful of the time and of the timeless.