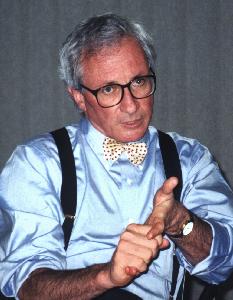 Dudley Clendinen
. . . is an editorial writer for The New York Times. He is co-author, with Adam Nagourney, of Out for Good: The Struggle to Build a Gay Rights Movement in America. Mr. Clendinen has edited essays on the American South and wrote the text for the photographic book, Homeless in America.  He lives in Baltimore, MD.

1:00

3:33
The fundamental human right to be honest is central to homosexual men and women's struggle to be free. This urge is at the very heart of gays' and lesbians' struggle to claim their civil rights as Americans, declares Dudley Clendinen, co-author of Out for Good, a history of the Gay Rights movement in America.
Unlike other groups who have struggled for the rights assured to white, land-owning Protestant men when America began, homosexuals are bound together only by their feelings -- feelings about themselves and feelings about others of the same gender. They are invisible.
That's only one problem they face. At the time of the Stonewall uprising in 1969, homosexuality was illegal, pronounced immoral by vocal religious groups, and categorized as insanity by the psychiatric establishment -- they were treated as crazed, sinning outlaws. That's changed -- some.
Progress toward inclusion has been faster for homosexuals than for any other group, Mr. Clendinen found, but it is far from complete. First the good news. Gays and lesbians are no longer listed or treated by psychiatrists as mentally ill.
Now the remaining challenges. Thirty years after Stonewall, homosexual people still struggle to change legislation which makes sodomy and non-procreative sexual acts illegal. Mr. Clendinen, who reports on the Religious Right for The New York Times, makes a strong case that the Gay Rights movement is the latest in a long continuum of Americans struggling to separate church from state. Since the Religious Right (the bulk of the current Republican Party's political troops and energy) specifically grew out of opposition to gay rights, gays and lesbians are struggling against fundamentalists eager to re-impose a civil order which once reflected their religious views.
And finally, homosexuals are still challenged to find religious communities who resist the temptation to degrade them as irredeemable sinners.
The Gay Rights movement learned from all the other movements of the 60s and 70s and 80s, but emerged in the face of an increasingly conservative culture. And it is a movement full of tensions: women and men have had strikingly different objectives (usually, men focused on their sexual freedom, women on protecting stable relationships, their children and their domestic lives); it began with radicals demanding sexual liberation but shifted into a middle-class civil rights movement; its origin in mob-controlled bars (the only place they were accepted) has clouded its moral authority; and it lacked a unifying leader.
But rest assured. This is a movement that will never go back into the shadows, bars and closets from which it emerged. It is Out, in part because AIDS forced it Out. Mr. Clendinen and Mr. Nagourney's catchy book title reminds us of another truth. When this last great civil rights struggle of the twentieth century is complete, it will be good for everyone.
[recorded June 7, 1999 at St. Mark Methodist Church, Atlanta, Georgia]

53:22