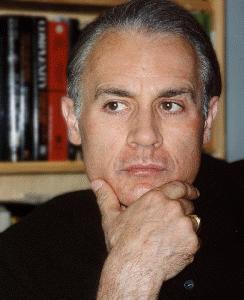 Arthur Ciaramicoli
. . . psychologist. Dr. Ciaramicolia is a faculty member of the Harvard Medical School where he is an instructor of psychology in the Department of Psychiatry. He is also Chief Psychologist and Director of Alternative Medical Services at MetroWest Wellness Center. He has a radio program in Boston and is author of The Power of Empathy:  A Practical Guide to Creating Intimacy, Self-Understanding and Lasting Love and Treatment of Abuse and Addiction.

3:43 secs
What's the key to a balanced life and healthy relationships? Empathy, according to Dr. Arthur Ciaramicoli. It's a powerful, genetically endowed ability to accurately read another person, he says, a characteristic we share with life forms as different from us as single celled organisms and elephants. Not an emotion or feeling, not sympathy, compassion or identifying with someone, empathy is a capacity to understand and respond to the unique experiences of another person.
Honesty is essential. So is the willingness to listen and to tolerate ambiguity in the interest of understanding and responding. Empathy is objective, willing to be with another to the point where we can understand how his or her experience is unique. It is an attempt to understand another, express the understanding and put it into action.
Don't think empathy provides a quick fix, says Dr. Ciaramicoli. He likens developing our biological capacity for empathy to running a marathon, not a sprint. It takes time and practice. And we all lapse. One of the great opportunities in relationships, he believes, is having many chances.
People who have experienced empathy can empathize, he assures us. Research shows women and men both are empathetic, though it often is expressed quite differently. Gender stereotypes, or any other kind, are not useful, he reminds us -- empathy always speaks to the specific, not the general.
Resist blame and the dark side of empathy, he cautions. Evil as well as good can result from being deeply tuned in to other people. Think Adolf Hitler.
Most of us move too quickly to be able to capitalize on our innate ability to empathize. We judge people by appearances, fail to look inside to see the whole person. Slow down, Dr. Ciaramicoli suggests. Be objective, gather facts, be present and in the moment, tolerate situations and differences which are not comfortable. We don't have to be in therapy to learn to expand our capacity for empathy, says this therapist. We learn it by practicing it, daily, in relationships with others. Our teacher may be the bus driver or the person who held the door.
What is the point of empathy? It's a tool for becoming better attuned to another and to ourselves. We all have it, it's hard wired into us. But empathy requires we see ourselves and others clearly, that we understand and accept our own personal history, create an environment were we are clear and direct, assert what we feel and think, accept our own and others' uniqueness while embracing our profound need for each other.
Allow empathy to come to fruition, says Dr. Ciaramicoli, and it can be life's guard and guardian.  Empathy's power?  It can get people back in sync.