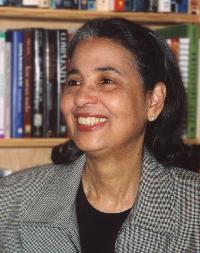 Gail Buckley
. . . journalist. American Patriots: The Story of Blacks in the Military is Ms. Buckley's second book. Her family history, The Hornes, was a national best-seller. She collaborated on the American Masters documentary on her mother, Lena Horne, and narrated PBS' documentary on Black American families. She has written for the Los Angeles Times, Vogue, The New York Times and the New York Daily News.

3:13 secs
[This Program was recorded June 12, 2001 in Alanta, Georgia, US.]
True Patriots have a positive, fighting spirit and the perseverance to endure what it takes to make America better, Gail Buckley found. She draws on 15 years of research which resulted in her book, American Patriots: The Story of Blacks in the Military. Patriots are civilians as well as soldiers to Ms. Buckley. In her personal gallery, James Fortune (a Black powder boy in the American Revolution) stands shoulder to shoulder with Rosa Parks and John Lewis (icons for freedom won through non-violent resistance to injustice.) And ethnicity imposes no boundaries -- heroes come in all colors, she declares.
Ms. Buckley is not a military historian, she is a journalist. Her "completed American historyš (not "black historyš) makes vivid a formerly invisible part of the story of America: Black Americans fighting and dying for America even when their own rights were being denied them The book grew out of Ms. Buckley's keen interest in the politics of the larger struggle for equal rights in America. (Her first book, The Hornes, was a national best-seller about her middle class Black family, which included her famous mother, Lena Horne.)
Ms. Buckley is clear that it took both civilian and military efforts for Black Americans to gain access to their rightful place in their nation. Blacks in the military were fighting a dual battle between the time George Washington led a "mixed multitudeš -- a totally integrated fighting force -- to the middle of the twentieth century, when the armed services were desegregated by Franklin Roosevelt and Harry Truman. Black Patriots had to draw on their own spirits and actions to fight the enemy of racism and legalized separatism within the armed forces and at home in America, while facing other nations against whom America had turned its force.
Ms. Buckley is resolute that the many terrible individual incidents she recounts -- slaves sold back into slavery after fighting in their master's places; returning World War Two veterans lynched for being in uniform -- are success stories, no matter how horrible. Yes, what happened to people when they came home is sad. But these people were successes because they were bigger than what happened to them, no matter how difficult their situation.
The military was always there, Ms. Buckley reminds us, always moving, always bringing people in and letting people out. Many of these were people who returned home to change their communities, because of what had happened to them in the military. And experiences in the military make a difference. In today's US Army, which has succeeded, she says, in becoming totally integrated, it doesn't matter what you think. But if you act like a racist, you're prime for court martial.
Ms. Buckley includes herself in asserting that most people do not care what others think about them.  They care about what the law says and how they are treated. American Patriots, inside the military and out, across all our artificial divides, still have work to do on both counts.