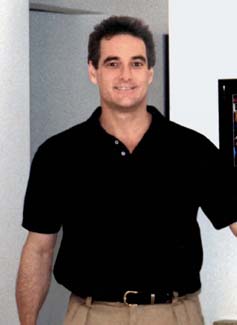 Mark Bryan
. . . is co-founder, with Julia Cameron, of Artist's Way Workshops. He is author of The Artist's Way at Work, with Julia and Catherine Allen. Mark is a Harvard-trained educator, currently a member and sponsor of the Dialogue Project at MIT. Oprah Wynfrey has showcased his "Prodigal Father" project. Mark now works and lives in an architectural delight in Los Angeles, CA.

3:40 secs
Creativity has become a business requirement. Products less than three years old now constitute a major part of American corporations' revenues. Companies simply cannot afford to stifle people's creativity. So Mark Bryan and his collaborators have developed a methodology to help people become creative at work.

The same rules used in the arts and sciences apply to business. Competence and mastery must be linked. Working in collaboration with Julia Cameron, who is known for _The Artist's Way_ book and workshops, and business executive Catherine Allen, Mark offers a wide range of social, intuitive and interpersonal skills that together comprise the human community. He also builds on his work with MIT's Organizational Learning Center and Dialogue Project.

Businesses must nurture creativity to survive. And creativity takes work. Mark's techniques range from "morning pages" and "time-outs" to a week of No Media -- no talk radio, no television, no reading, no e-mail, no Internet. (The outer silence casts us into our own inner silence, allows us to hear our own intuitive wise inner mentor who is often drowned in media noise.)

Start with the only person over whom we have control. Look to yourself. Listen to your own powerful inner mentor. Evolve your own actions, over time. Re-frame failures into learning experiences. Find the courage to take risks. Deal with old grudges, hurts and slights. You can use that energy for creative ends. Be a participant-observer. Practice.

We have un-learning to do, too. Having been taught in school to de-construct, we must teach ourselves to construct. Un-learn risk-averse behaviors which make us collaborators in our organization's problems. Acquire the skills to overcome our own unwillingness to change.

A safe, trusting environment is essential to any kind of creativity. People have to be able to take risks, fail on the way to success, trust each other in the pursuit of a common goal. Creating such an environment is a challenge in many businesses and the stakes are high -- when employees don't feel safe enough to risk the truth, it can be fatal to the enterprise.

Creativity takes time as well as skills. Developing an idea takes work, refinement and many iterations. The person doing that work has to be candid, be able to see a bigger picture, and not be mired in office politics or frozen in embarrassment. Train yourself to optimism. Develop the courage to take risks. Expect to win. It's how we make meaning in our lives and evolve ourselves toward authenticity. It's how we invent the future.