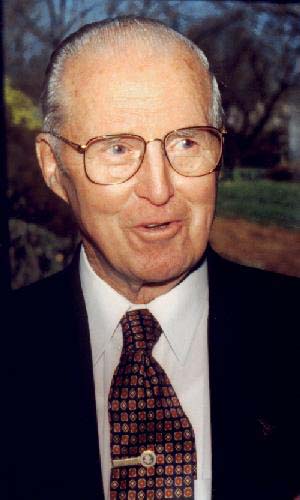 Norman E. Borlaug
. . . is considered the Father of the Green Revolution. Awarded the Nobel Peace Prize in 1970 for his lifetime of work helping feed the world's hungry, Dr. Borlaug's commitment to the small-scale farmer now is being felt by African farmers. Dr. Borlaug officially retired from leading the Wheat Programme of the International Maize and Wheat Improvement Centre (CIMMYT) in Mexico in 1979. Since 1984, he has been the Distinguished Professor of International Agriculture at Texas A&M University.

3 min:07 secs
Norman Borlaug's life is a tribute to what one person can do in the face of enormous obstacles: he has saved more lives than anyone in history. He has done it in the face of world wars, civil wars, famines, riots and bureaucratic obduracy. Norman Borlaug is the Father of the Green Revolution. In 1970, he received the Nobel Peace Prize for his work. Now in his mid-80's, Dr. Borlaug is still fiercely committed to the fundamental importance of feeding the world's people.  He believes the ability to feed "the population monster" is central to civilization's survival. Human progress itself is at stake.
In case you've forgotten, the Green Revolution made it possible to feed millions of people in India and Pakistan in the 1960's, people who otherwise would have starved to death. Grain yields were increased six fold. But the Green Revolution was about much more than just developing new seeds. Farmers had to learn how to plant those new seeds, how to fertilize the land, how to control the weeds and how to irrigate. Dr. Borlaug placed his bets on small farmers and won.
Even as a Midwestern farm boy in the Depression, Norman Borlaug hated the site of human misery. That hasn't changed, though he's now seen enough misery world-wide to fill many lifetimes. He shares his sense of urgency when he talks about today's human misery and that which he anticipates if we cannot feed people. For starters, he's certain misery will not stay at home. You can't build peace on empty stomachs, he cautions. He's equally confident that if there is an "explosion" as he fears, not only will desperate people find their way across oceans and deserts, there will also be opportunists fishing in troubled waters.
As the human population redoubles and available arable land decreases, environmentally sound uses of the land are increasingly urgent, Dr. Borlaug warns. To produce 1996's harvest with 1965's technology would have required three times more land. Biodiversity, he argues, is preserved when technology improves yields in existing arable lands, reducing the perceived need for slash and burn farming.
Dr. Borlaug is now hard at work with farmers in Africa, alongside former President Jimmie Carter, working with The Carter Center's Global 2000 program. There are staggering obstacles: "donor fatigue," inadequate or non-existent infrastructure, bureaucratic obstacles and the political legacies including colonialism and most recently, the Cold War -- money sorely need for education, health and transport went instead to military ends. So he continues to work.
From Mexico in the 1940's to Africa today, we have much to learn from Norman Borlaug's perseverence. How does Dr. Borlaug see himself? "I was only a catalyst." Let's hear it for catalysts.