When Georgia native Amy Blackmarr sold her business in Kansas to move back to a cabin by her grandfather's fishing pond, she anticipated a simple life. She was mistaken. "Simple" turned out to be surprisingly complicated. In this conversation with Paula Gordon and Bill Russell, Amy describes her personal and literary adventures.
Amy Blackmarr did what uncounted others talk about -- she left "life in the fast lane" to find herself in nature, to write. Now she's back to tell her stories. One of them has a surprising twist: the more simple something is -- the fewer the constrictions -- the more open the situation is to possibility. It's deceiving, Blackmarr discovered.
"Going to Ground" means finding refuge, whether in a fox hunt (the fox goes to ground, the dogs don't,) in the military (full of "fox holes") or in a cabin on one's grandfather's fishing pond in South Georgia. In order to "Go to Ground," Blackmarr had to sell her successful paralegal business in Kansas. Then she created a life easily compared with Thoreau's on Walden Pond. On the surface, it looked Very Simple. Turned out, it was not simple to come to terms with the ordinary.
After five years and the publication of her book of essays which chronicles her discoveries, she finds herself reconnected to her family and astonished by her need to cultivate both community and intimate personal relationships. She attributes this need to a challenge she thinks we all share -- how to reconnect with each other in the electronic age. We just don't spend enough time on the back porch any more, sipping mint juleps and swapping stories. Blackmarr's solution -- join the resurging literary genre of the personal essay. "What I write is strictly true for me. I trust that's what others relate to. It's just my way of sharing my own experiences."
Blackmarr's ties to the land are more than just being a Southerner she believes, though certainly that's an important part of who and what she says she is. All of us, she thinks, share an essential connection to the land. And thinking about the land has her thinking about boundaries these days. She thinks we all have preconceptions of where we belong, boundaries which limit us. She's working to break down those boundaries within herself. Doing so has reconnected her not only to the land of her forebearers but also to other people.
Leaving South Georgia made Amy Blackmarr realize just how much she liked returning to that cabin by the pond. The same can be said of the tree house where she now lives, back in Kansas. Perhaps "simple" is a life lesson, not a geography lesson.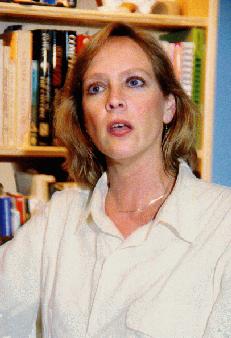 Amy Blackmarr
Amy Blackmarr published her stories in Going to Ground: Simple Life on a Georgia Pond (Viking). She tells her stories to listeners of Peach State Public Radio and Kansas City's NPR affiliate. She now she lives in a tree house outside Lawrence, Kansas, while completing her Ph.D. as a Self Fellow at the University of Kansas.