Listen Now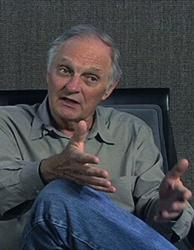 [The full audio and video content of this program with Alan Alda are available here.] Be present and spontaneous, in touch with life in a gentle, definite, clear way, Alan Alda counsels himself. He lets other eavesdrop in his autobiographies. Having made an indelible impression on the culture with television and movie roles, with screenplays and directing, and as host of a remarkable science series, why bother? "It's about me trying to figure out the meaning of my own life, and I think it's maybe entertaining to watch some poor schlep try to figure this out when it's always a quixotic effort. I really have tried very hard not to tell people how I think they should live. "I've learned a lot from having good times fall on me. I want those good times to go on. I want to know how I got there. I want to notice it. I want to enjoy the process, because this is all I got. I don't expect to go on after this, so I want to make sure that on this side of eternity I get a feeling of pleasure in it. What could be better than life? I can't imagine anything better than life. "One of the solutions that I came to is being present. Spontaneity is to be there. Let come in what's coming in. And I think you're more spontaneous if you're paying attention. Being aware. Noticing my life as it happens. I suppose you could do great works and never notice your life passing by and other people would benefit from it, but I'm a little greedier. "It's funny. As I was writing my second book I was really struck by what I read in Marcus Aurelius about the present moment. It only occurred to me a little later that that's how I had been trained all my life -- to pay attention to the present moment. "A nice thing about the particular art that I'm in is that you kind of are required to learn about somebody else. That sometimes does feel like broccoli. The first thing most of us think of is not, 'How can I find out more about this other person and care about it?' "A few years ago it occurred to me that if I would listen to another person in life -- now, I'm not talking about on the stage, just in life -- that I would listen to another person as though they were possibly my salvation, not that I had to wait until they were done so I could say this great thing I had to say, but really let them land on me and change me -- unless I were willing to let them change me, I wasn't really listening. And it's not always what their words are telling me." Born into a vaudeville family, Mr. Alda has been around actors and acting all of his life. Laughter has always loomed large for him. "It's sort of become cliché to say that laughter is important in life, but I think it is. A lot of jokes come out of the military -- the harrowing and the funny have to get mixed. Some of the funniest, biggest laughs you'll have is at a wake afterward a funeral or the shiva. There's a lot of fond laughter or sometimes naughty laughter and it's a great relief to people to be able to do that. "My mother was psychotic. I don't mind at all relating my experience because it's a human experience. When we talk about wanting to accomplish something and something is obstructing it -- that's what makes it a play. "When you're a kid and your mother is psychotic that's dramatic, it's not dramatic because it's cataclysmic -- and it is cataclysmic -- but it's because that's something you have to get through. You have to find the person behind the psychosis. When you realize that in spite of that annoying quality of being psychotic they are able to love you and you're able to benefit from it, that's a release." "Be aware. Notice my life as it happens. Because I think I found that there's not much point in how much meaning my life has if I don't notice it."
Acknowledgments
Alan Alda is pretty much what one hopes he would be: engaging, intelligent and thoughtful, with a levening of humility and humor. He has enriched his art and our lives. We thank him on all counts.
Related Links
Never Have Your Dog Stuffed and Things I Overheard While Talking to Myself are both published by Random House.The arts are central to understanding ourselves and the worlds we inhabit. Over the years we have been very fortunate to have substantive conversations with a range of influential artists: Frank Delaney, Elizabeth Strout, Thomas Lux, Janos Starker, Lawrence Hill, Robert Bly, Sara Paretsky, Stephen J. Cannell, Geraldine Brooks, Elizabeth Marshall Thomas, Ha Jin, Edward P. Jones, Richard Slotkin, Jacques Pépin, Lady P.D. James, Roger McGuinn, Tony Hillerman, Joseph Finder, Hugh Masekela, E.L. Doctorow, Iman, Richie Havens, Jeff Moss, Nelson DeMille, Alexandra Fuller, Nikki Giovanni, Kurt Brown, Aminatta Forna, Bernard Cornwell, Judy Collins, Linda Bloodworth Thomason, Pearl Cleage, Billy Collins, ... . Additionally, the scientists and scholars with whom we've talked generally understand and appreciate the role of the artistic view in their own work. And, here's a little background information on Paula Gordon and Bill Russell, the Program co-hosts.
This Program was recorded on
Thursday, September 25, 2008

in Atlanta, Georgia, US
Tags: acting actor agenda Alan Alda Alphonso Joseph D'Abruzzo Aristotle Arnold Vinick art attention Blacks broccoli community conflict culture depression entertainment experience good times group experience humor Jews laughter lies life living love MASH meaning meaning of life mental illness mistakes movies mystery Poetics present propaganda psychosis psychotic quixotic reality reset science Simon Wiesenthal solitary spontaneity tension Things I Overheard While Talking to Myself West Wing