Listen Now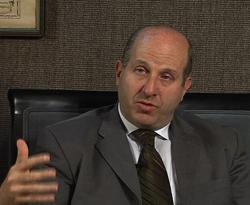 The quality of American higher education is still unsurpassed in the world because it champions analytical and critical thinking, observes Marvin Krislov, President of Oberlin College of Arts and Sciences & Conservatory of Music. As Vice President and General Counsel at the University of Michigan, he led the successful defense of affirmative action before the Supreme Court, and he has been nominated by President Obama to be a Member of the National Council on the Humanities.
"A genuine liberal arts education teaches you how to think and be creative and analytical. That's the way that we are going to solve a whole range of issues facing us -- whether it's sustainability, whether it's economic distribution, whether it's an artistic expression -- that ability to think and analyze critically is at the foundation of a liberal arts education. We want to give students a range of exposure to different disciplines, but also to sharpen those skills so that as the world evolves they will have the ability to grapple with those things."
In the 1830s, Oberlin College pioneered equal higher education for all men, regardless of color, and for women. Now, working closely with the town of Oberlin, Ohio, they are pioneers in the field of sustainability.
"The idea is to create this model of sustainable living that can be looked at by others and, we hope, be an influence on the world.
"Oberlin was recognized recently by Sierra Club Magazine as the Number One Coolest – meaning ecologically minded – School. Professor David Orr who started our environmental studies program is still very active at the school and a leader. We have the Adam Joseph Lewis Center which is an iconic building that produces more energy than it uses, where school children from all over the country come to see the 'Living Machine'. We were among the first to pledge to become carbon-neutral. We do a lot with bikes and car-sharing. We have a student Seed House, we had an EcoOlympics -- the students are really driving a lot of these initiatives."
One of the greatest opportunities college presents students is a safe place to confront different people and points of view, both internationally and domestically, he says.
"I think that there's really a strong reason why in today's changing world it's even more important to understand the way things interrelate and interconnect. So if we're thinking about the Middle East. for instance, it's important to understand the roots in religion, in history and art, as well as politics and economics. I also think it's really important that students get exposed to varying viewpoints.
"It's important for those of us who are in positions to teach or to inspire to say, 'It's OK if you don't have a clear-cut answer but it's important for you to just show me that you're thinking about it in a methodical way. You're looking at data or evidence or whatever it is in your discipline. And you also can identify how you might further explore it outside of the context of whatever problem or project we're working on. It's hard because it is a very rush rush culture and I don't think that we necessarily give that message to young people.


Acknowledgments
President Krislov, Oberlin College and the town of Oberlin, Ohio are audaciously confronting our era's grave environmental challenges as a core part of their mission to educate tomorrow's leaders. Working in close collaboration with College trustees, key faculty, alumni, students, staff, the town of Oberlin and surrounding areas, and the larger world, Marvin Krislov is wonderfully suited to lead the way in fulfilling the College's motto -- "Learning and Labor" -- as they work to demonstrate by their actions the crucial role of service which all educational institutions must reclaim.
The future is counting on Oberlin and places like it, ready to face up to our current realities and change them for the better. We thank Marvin Krislov for his professional wit and wisdom accompanied by the welcome leavening of his laughter, and we delight in his warm and wonderful friendship.

Related Links
The enhanced website for the Oberlin College and Arts and Sciencesinvites exploration of the world of ways Oberlin students, faculty, staff, alumni and friends experience it.
In particular, there's a great deal more about the Conservatory of Music ( including its celebrated new home for Jazz Studies), the Adam Joseph Lewis Center for Environmental Studies and the Environmental Studies Program.
The program we produced with Oberlin's distinguished professorDavid Orr presents ideas even more pressing today than when we recorded it in 1999. His newest book is Down to the Wire: Confronting Climate Collapse. In it, Dr. Orr unflinchingly lays out the realities faced by all of us, particularly today's students, with a hopeful conclusion much like now being explored at Oberlin by the College, the Conservatory, and the Town, with leadership from President Krislov. They welcome support from all who share this vision of a sustainable post-carbon future for life on earth.
We also looked at K-12 education with Joy Berry and Rafe Esquith.
And, here's a little background information on Paula Gordon and Bill Russell, the Program co-hosts.


This Program was recorded on
Thursday, May 15, 2008

in Atlanta, Georgia, US
Tags: citizen citizenship college complexity earning education liberal arts life living Marvin Krislov Oberlin College trade school university